Mission Possible UK

Autumn Newsletter 2018
One of the joys of being part of Mission Possible UK is that I have known all our key partners for at least 16 years – Bishop Nathan Amooti and Bishop John Rucyahana in Rwanda, Ivo Ignat in Eastern Europe and Theo Mbazumitima in Burundi. We will profile each of these partners in the next few newsletters.
So, Mission Possible is not an emergency relief organisation moving from country to country. However, we do work in two countries where there is civil strife – Ukraine and Burundi. Our aim in 2019 is to increase our support to both countries, bringing hope into situations that at times look utterly hopeless.
Burundi – the third poorest country in the world*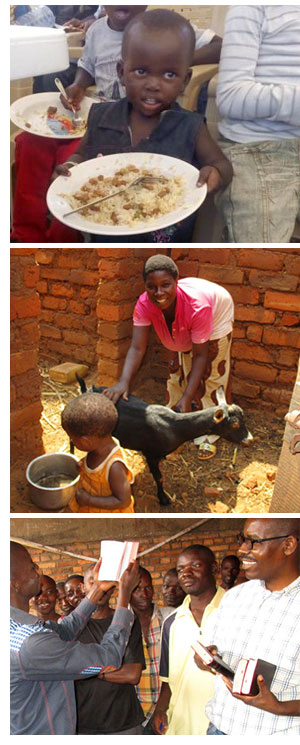 Mission Possible has worked in partnership with REMA Burundi since we were founded in 2007. Over the years, you will have read about projects we have supported. These include the distribution of Bibles to church leaders, schools and prisons, sponsorship of HIV/AIDS awareness conferences and peace-making dialogues, and also the provision of books for a Christian Resource Centre.
It seemed right to us that we should increase our support for our partner REMA in the third poorest country in the world according to Wikipedia*. We started discussing this with REMA in July. As a result, we have committed to support an orphanage by providing meals, and also fund some small income-generating projects such as animal husbandry (see picture to right), tailoring, woodwork, and baking bread to sell. We are also exploring other possibilities, including the training of pastors and supporting REMA's advocacy work on behalf of women returning to Burundi from refugee camps in bordering countries.
I received this email from an MPUK supporter: "On your recommendation in the Summer Newsletter I recently read a copy of My Country Wept – an amazing account of God's intervention in Burundi! With three grandsons currently around the age of Theodore in 1993 I decided to get further copies to send to them. Our fourth grandson who is only 2 years old happens to be named Theodore – so I plan to send his dad a copy." That is some commendation. If you want to know more about Burundi and our partner Theodore Mbazumutima, as well as discover more of how God can bring light out of darkness, and peace through forgiveness, do try and get hold of a copy of My Country Wept. It is available from MPUK or through Amazon. Theo is pictured right handing out Bibles.
Prayer point: Prayer point: Please pray for these new initiatives in Burundi.

Ukraine – changed lives in two villages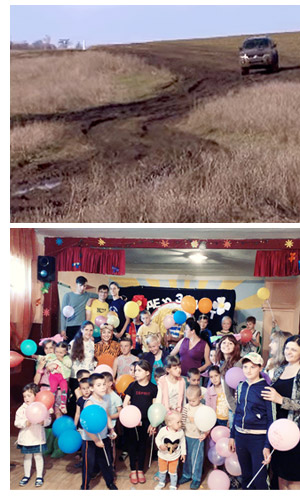 A village that 'cannot be accessed'
Peremozhne, a village with four hundred residents, is only a few miles from Odessa, yet it is known as the 'village that cannot be accessed'. The road through the fields is often too muddy and rough to drive on. "It has been this way for 35 years. It's like we live on an island," the residents complain. "It is pointless to call the fire department, police, or an ambulance." Despite the challenging circumstances, Mission Possible started an outreach for the children and their families in 2015. There is a Bible Club every Wednesday (see picture centre right) and clothing and food are also distributed in this impoverished community.
In the harsh winter of 2015, Misha, Maxim, and Diana lived in a shack with no heating. Their father had died and their mother was an alcoholic. The situation got so bad that the children were put into an orphanage. The MP team prayed for the mother and an astonishing change took place in her. She stopped drinking and visited her children in the orphanage! She found work at a pig farm, had her home repaired and installed heating. And then she got the children back! Now she has been sober for over a year, has a regular job, and cares for her children. They are now attending the Bible Club. Diana recently turned 11 years old, Misha is 10, and Maxim is 8. It is difficult for their mother as a single parent to provide everything the children need. The MP team continues to help the family and rejoice in the changes in their lives.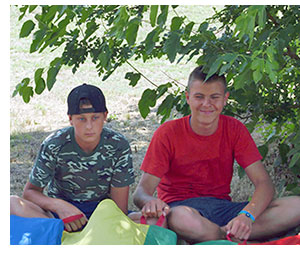 From sabotage to salvation at a summer camp
Paliyovo is a poverty-stricken seaside village in the Odessa region of Ukraine. Difficulties for the villagers began when fishing was banned because of international standards and their fish factory closed. Many became unemployed.
Two boys, Artyom and Vasja, showed up at the MP summer camp in the village. It was evident they were intent on sabotaging the time at the camp for everyone else. However, as time went by, the Bible lessons and worship songs – something they had never heard before – left them speechless. On the last day, they said they would like to accept Jesus and without shame they prayed the "sinner's prayer" in front of the others!
After this camp, MP held a similar one in another village. To everyone's surprise, Artyom and Vasja showed up with a friend called Sergey. The difference this time was that Sergey came to the camp ready to make his decision to accept Jesus! Saboteurs had become evangelists. Pictured are Artyom and Vasja.
Prayer point: Please pray for Richard and his wife Ruth as they travel to Ukraine on October 18 to discuss with Ivo Ignat projects that MPUK can support. The first project we discussed together was in Moscow way back in 1998 – distributing book packs to new churches in Russia. That is 20 years of working together. See picture to right.

Rwanda – the land of 1000 hills
Walkways and new drainage system on one of the 1000 hills
In 2007 for just £5,000, we purchased the hillside on which 900 pupils at the Star School study today: an amazing investment. Today the area has been transformed into a suburb of Kigali and the school campus is a beacon of Christian witness within this newly developed community. In addition to our ongoing sponsorship programme of children from poor families, we have funded new walkways at the school to link the school buildings. This not only makes the school disability friendly but also reduces erosion on this hillside. Combined with this, we have funded a new drainage system to deal with the water that pours through the school during tropical rain storms.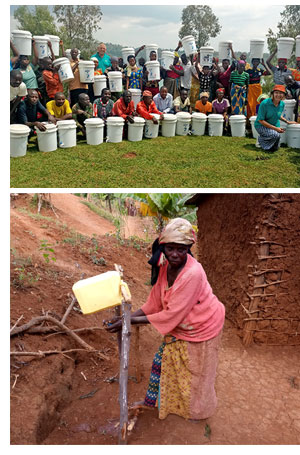 Water filters on another of the 1000 hills on Nkombo Island on Lake Kivu
For nearly 3 years, we have funded the nutritious porridge programme for the 'Red Zone Children' who live on a hill in Bugumira district on Nkombo Island. Over the past year, we have added to this programme by providing water filters to families in Bugumira. To date we have supplied almost 500 water filters and have plans to supply another 250 over the next 6 months. We are extending the distribution to a small island north east of Nkombo Island called Ishwa.
Whilst on a mission trip to Rwanda last month, we heard testimonies of how these water filters have significantly reduced diarrhoea and other waterborne diseases in these communities. In addition we fund simple handwashing facilities. Amazingly, this programme costs just £25 per household.
Transformation on the slopes of the volcanic mountains on which the historically marginalised people (HMP) live
The lethargic and despairing HMP community we first visited in 2014 now has a sense of purpose and hope. For example, there are now three land cooperatives (see picture of potato harvest at one of them, bottom right). I saw a 'miracle' during my trip at an outdoor crusade when a lady who was illiterate a year ago was able to read a Bible passage in public (see picture above right). Our adult literacy project is clearly empowering these people.
This HMP community live near the gorillas in northwest Rwanda and each year there is a big gorilla naming ceremony that many tourists attend. The HMP dance group that we sponsor was asked to perform this year and earned their first performance fee. Read more on the HMP on next page under the snippets section.
Prayer point: Give thanks for all these developments.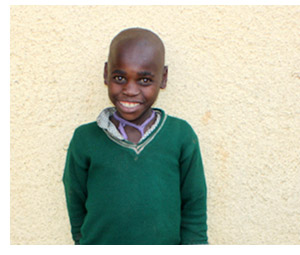 Historically marginalised sponsorship (HMP) programme
For the past year, we have supported 130 HMP children to go to primary school by providing them with school uniforms, shoes, satchels and basic school resources. Whilst in Rwanda, we discovered that most of these children go to school with little or no breakfast and have no school lunch. On enquiry, we were told that they could receive school lunch if they paid £30 per annum. They cannot afford this, but we can. So we have decided to launch an HMP child sponsorship programme which covers both their school uniforms, shoes etc. and school meals. The cost is just £5 per month or £60 per annum. If you would like to sponsor one of these children, please let us know and we will send you details. A low cost way to make a difference to one life. See picture of one child on this programme on the right.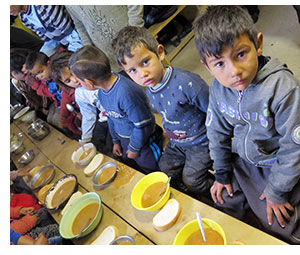 Winter is coming in Bulgaria
Winter can be cruel in Bulgaria with the Roma community living in houses not dissimilar to those we see in Africa. So once again, we will be supporting the soup kitchen projects in these Roma villages on the foothills of the Balkan Mountains.
The Baby Box project continues and we recently sent funds for another 16 boxes.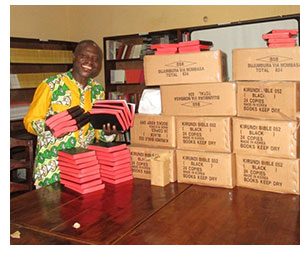 More Bibles for Burundi
In September, REMA received a consignment of Kirundi Bibles funded in the UK, printed in Korea and shipped via Mombasa! In the background of the picture to the right, you can also see on the bookshelves part of a Christian library we provided some years ago.
These Bibles are being distributed in the Cankuzo province in eastern Burundi.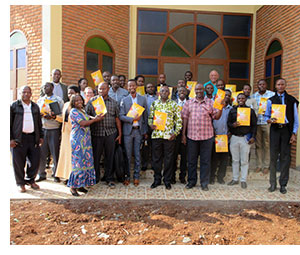 Leadership training in Rwanda
Also in September, when visiting Cyangugu Diocese in southwest Rwanda, Ruth and I were invited to conduct a day leadership seminar. It was wonderful to be able to give each delegate a copy of our new leadership book. In the front row in a pink shirt is our partner Bishop Nathan, who I have also known for over 20 years. The training was held in the new cathedral which will be dedicated in January next year.
That is all for now!
Richard