Mission Possible UK

Autumn Newsletter 2019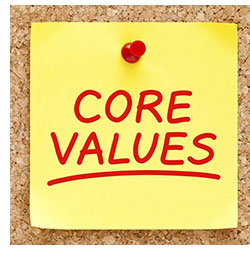 In our summer newsletter, I shared that one of our core values is to "respect our partners by listening to them and learning from them". A new supporter has asked what our other core values are. In total we have seven, so here are the other six. These values are not hollow, as for us they are at the heart of the way God wants us to work.
focusing our ministry on the

poor and marginalised

being people of integrity

with servant hearts and seeking overseas partners with similar characteristics

being inclusive

and demonstrating that all people are loved and created by God

being professional

in all we do whilst remaining dependent on the grace of God

being genuinely thankful

for each donation irrespective of value and being good stewards of these resources

giving God the glory

for the spiritual impact that results from our ministry
Partner Profile: Bishop John Rucyahana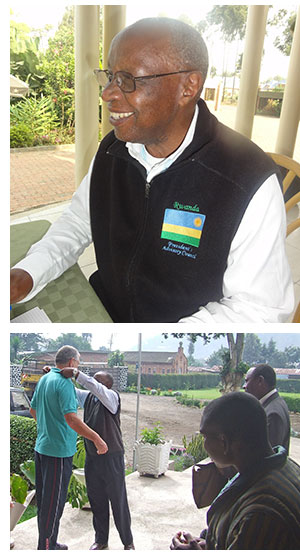 As we are considering the way we work, let us start this newsletter with our third partner in our partner profile series. When the Rwandan genocide erupted in 1994, John was with the Anglican Church of Uganda. He immediately led mission teams into Rwanda, preaching a message of healing, hope and forgiveness. In 1997, he was appointed Anglican Bishop of the Shyira Diocese in northwest Rwanda, the largest and most devastated diocese in the country. Today, he is best known in Rwanda as president of Rwanda's National Unity and Reconciliation Commission.
I first met Bishop John on my way to Goma in the DRC in 2002, a week after lava from a volcano had poured through the city centre. As can sometimes be the way with such brief encounters, I had no idea that we would work together after he founded Transformational Ministries (TM) on his retirement as diocesan bishop. TM is seeking to bring transformation to the Historically Marginalised People (HMP) in northwest Rwanda. This includes community development projects and preaching the love of Jesus Christ. Mission Possible is TM's main overseas partner and thanks to our supporters, we have funded most of their projects.
Bishop John and his wife Harriet run a Bed and Breakfast from their home to support the ministry. It is amazing to see Bishop John in his mid-70s scrambling along stony and muddy tracks to visit the HMP on mountain slopes. Pictured above right is the Bishop tidying Richard's collar before doing some leadership training in his diocese in 2006! The old cathedral can be seen in the background.

Impact reports on the HMP projects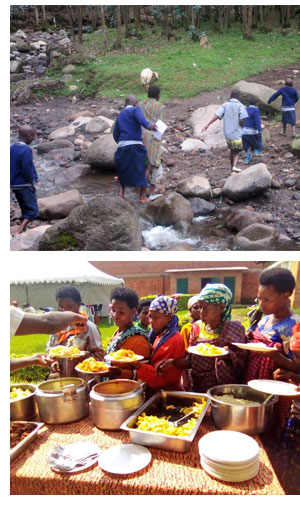 Over the past few weeks, we have been working on impact reports on our projects with the Historically Marginalised people. One thing that surprised us was the level of school absenteeism of children we support. Some of the parents had not accepted that education is a key way to break out of the vicious circle of poverty. What is obvious to us is not always obvious to those who see no light at the end of the poverty tunnel. Therefore, it was agreed that we would fund some conferences for the parents, the first of which was held in August.
The August conference has been described as a 'great moment', with parents committing to ensure that the children would attend school unless seriously ill. What was especially pleasing was that schoolteachers took time out of their holidays to participate in the conference. Pictured above are children crossing a mountain stream on the way to school. Pictured right are a few female attendees experiencing self-service for the first time. In the background is one of two marquees we purchased last year, which was used as the venue.


Ishwa Island has been our big new focus over the past year. Each of the 400 households on the island now has a water filter and basic hand washing facilities. Then, in May, we launched the Champion a Child programme and it is wonderful to report that we are now supporting all 130 children at the nursery school and providing basic school resources too. Pictured are the older nursery children aged 6, having their highly nutritious porridge, younger children with their new shoes and bottom right, the clever and cheap handwashing contraption.
A university student who recently visited the island has written. "People who have nothing and yet who sing and dance, beginning each day at the feet of Jesus and then declaring the goodness of God wherever they go. People who do not complain and who are grateful for every new day. People of joy. Children caring for their little sibling on their backs and who try to rub off your freckles and who laugh when you try to speak their language. Women who don't speak the same language but who hold your hand and walk you around their village with a big smile on their face. Fishermen who sing going out to work at night. People who survived the 1994 genocide and who choose love over hate. People with hopes, dreams, struggles, and plans just like yours. People who have changed my life."
The following is what two mothers have shared with us:
"The porridge at the nursery school has encouraged my children to run to school every morning and they have become strong and healthy" Eugene Nyiramana
"I would have never afforded to buy shoes for my daughter, I am glad she has shoes now" Ruth Mukandayisabye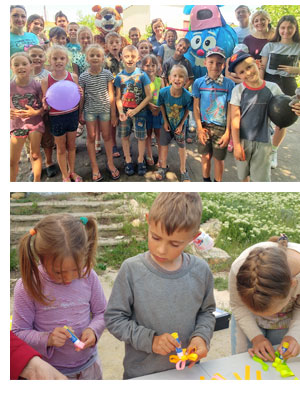 Our 2018 Christmas appeal was for Bibles for Burundi and summer camps in the Ukraine. We reported about the Burundian Bible distribution in our Spring newsletter, promising we would report later on the summer camps which I shared would "combine fun with learning more about Jesus", and this is exactly what happened.
The Mission Possible team held Christian camps last month in four remote villages in the Odessa region. The main teaching at each camp was about building relationships, which is something that most of these children struggle with. Playing games, craft sessions, reading Bible stories, praying together and sharing testimonies on how God was answering prayer were all part of the week. Karina, one of the volunteers, shared "It was amazing that the children who at the beginning were among the first to create conflicts or were withdrawn and unsociable, at the end of the camp became the most enthusiastic and thanked us most for coming!" An example is Kostya. (Boy in grey in centre of children doing crafts.) He is only 7 years old, but already knows what poverty and hunger mean. When Kostya came to the camp, he was reserved, uncertain and shy. He did not want to get to know the other children. But little by little, he saw the love and care of the volunteers and gradually felt accepted and loved. By the end of the week, he was constantly asking "How can I help?" His mother Marina says "this week has been an answer to my prayers. Kostya is now like a different boy. He is happy for having new friends and will be attending MP's weekly Bible clubs."

Ekaterinburg – Sasha's story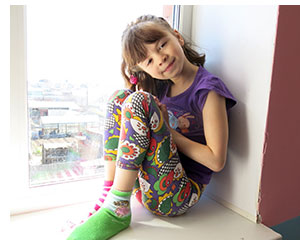 Two years prior to this photo the police had brought the then six-year-old to our shelter home in a state of shock. Her alcoholic grandma, with whom Sasha lived, had just stabbed her partner, and Sasha witnessed the whole thing. At first, Sasha was so fearful that when she saw even soda bottles in our dining room she would hide, afraid there would be another vodka drinking party. Little by little Sasha calmed down and became joyful and outgoing. She started school and piano lessons and did well in everything. She even liked having her photo taken! Mission Possible's team began helping Sasha's mother. She drank, had no work, and her entire life was upside down.
Sasha's mother started going to church. She regularly visited Sasha at the shelter home. Our team gathered together her official documents and found a job for her. With the help of church members, her apartment was renovated and furnished. So in 2015 Sasha returned to her mother! One of Mission Possible's volunteers took on the responsibility of staying in touch with the family. How is Sasha doing four years on? Both she and her mother are doing well. Mission accomplished.

Caring parents in Bulgarian slum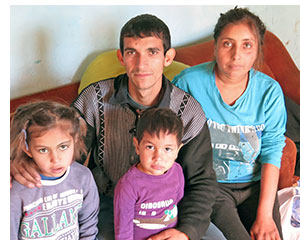 Pavel and Minka want to take care of their two children despite difficult circumstances. They live in a Roma slum village. They believe in Christ and worship at the local Roma church. "We go to all the congregation's services, but we don't know the Bible very well. We want to learn to read so we can teach our children about faith in God" says Pavel. Adult illiteracy is still quite common amongst Bulgaria's Roma people. This winter, when there is little work available in the Roma villages, Mission Possible will hold literacy courses for parents like Pavel and Minka.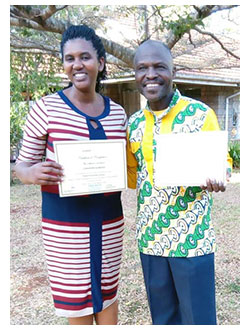 Safeguarding in Burundi
Earlier this year, Christine from Transformational Ministries in Rwanda and Francois from REMA in Burundi attended a weeklong safeguarding course in Nairobi. (Pictured right) Two senior staff members from the Star School attended the same course in 2018. Francois reported back to us "This safeguarding course should be taught in all our five church leaders' training centres. There is a great need for this training in Burundi". We now have permission to translate the course material into Kirundi and MPUK will facilitate the rolling out of this training into churches across Burundi.
Mission Possible UK is now a member of 'twentyone: eight', an independent Christian safeguarding charity which offers us support in safeguarding issues.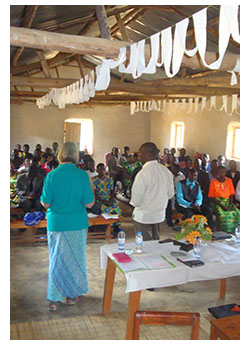 The Essentials of an Excellent Christian Marriage
Recently, we received this feedback from a trust that sent out 'The Essentials of Excellent Christian Leadership' to Africa. "One of the great strengths of the Essentials approach is its clear and logical structure. The Africans we send books to give us very positive feedback about books which are set out clearly and do not ramble. And the Essentials of Excellent Leadership is a great example of a book where we received positive feedback." We are now working on 'The Essentials of an Excellent Christian Marriage'. This manual has particular challenges as it needs to be culturally sensitive. Please pray for us as we write this book. Pictured is Ruth speaking at a marriage conference in Rwanda.


Give as you live – an opportunity to give as you shop for free!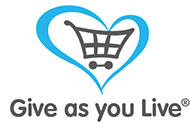 Give as you Live is an online fundraising platform allowing users to shop at over 4,300 top stores (including Amazon) and raise free funds for charity. The store pays Give as you Live a percentage of your purchase price in commission and of this, 50% is passed on to charity. If you register and nominate Mission Possible UK, you will be supporting our work.
This is really easy to set up. I am an IT dinosaur but managed to set it up with no assistance from anyone – yes, I did feel proud of myself! One supporter has raised several hundred pounds for MPUK using this platform. Simply click here, and sign up. As Tesco says, 'Every little helps'. And it really does. Many thanks.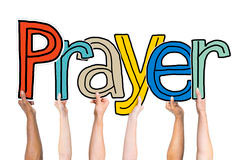 We so value your prayers and hopefully there is enough material in this newsletter to encourage you to support us in this way.
This is everything for now. Thank you for reading our autumn newsletter.
Richard
PS. We have just received letters from children sponsored at the Star School in Rwanda. One child has a lovely way of showing appreciation for her sponsor. She wrote "As a result of you, my life is as bright as a silver coin".