Mission Possible UK

Autumn Newsletter 2020


During the summer I listen to Test Match Special on the radio while working. One thing the commentators enjoy is eating cakes sent by listeners. No one has yet sent me a cake, but I do receive many inspirational cards from supporters. A recent one quoted John Wesley: "Do all the good you can, by all means you can, in all ways you can, in all places you can, to all people you can, as long as you can." This is what MPUK has been seeking to do in these extraordinary times. The amazing response to the Lindisfarne to Land's End walk has enabled us to do more than we could ever have envisaged. We have not only been able to provide emergency relief in the form of food and hygiene packs, and a job retention scheme, but have also supported projects that have given work to unemployed casual workers and progressed various Christian literature projects.
We have supported the distribution of food/hygiene packs from Ekaterinburg in Russia (pictured right) to remote islands in Rwanda (pictured bottom right). And after providing funds for the Roma communities in Bulgaria we received this inspiring video which only lasts just over a minute. Do click on the following link.
https://www.youtube.com/watch?reload=9&v=XT4d7uf_ngQ&feature=youtu.be
Regarding job retention, in early April the contracts of the Star School staff were terminated as, with schools closed, the school had no funds to pay them. MPUK, having decided to fund salaries in full in April, were then asked if we could fund one third of the salary bill until the end of August and we have been able to do this. Likewise, the Cyangugu Diocese faces financial challenges with churches closed. With few church members having bank accounts, most income comes from Sunday collections. We have given additional support towards salaries in the Diocese.
Prayer: Please give thanks that we have been able to do all this. Continue to pray for wisdom for those who lead our projects in Africa and Eastern Europe.

God's manna in Burundi
For the past few years we have supported an income generating project in Ruziba in Burundi. The vicar Silas says the project is like "God's manna in the desert." He reports that people have suffered with land plots being divided as people resettle in the area and fish stocks declining due to overfishing. However, the income generating project has brought transformation to this community. As one lady shared "I used to sit like a beggar. Now I have a job to do. I am proud of that." She used to get one meal a day, now it is two. Her clothes are clean as she can afford washing powder and her children no longer go to school barefoot.


The Great 'Loo' Project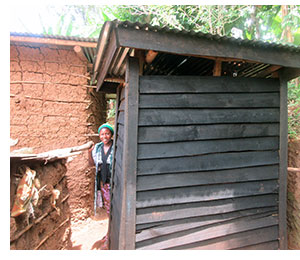 Ishwa Island in Rwanda is where we have the 'Champion a Child Project'. Sadly, schools have been closed since March, so we have been providing emergency relief to the Champion a Child community. But we have also been doing more on the island. I was appalled that some of the 400 households had toilets beyond any understanding of human dignity, while others had toilets. We were asked to fund 69 new toilets at £230 each – for us a staggering total of £15870. But any journey starts with a first step, so we funded our first toilet late last year. Today 21 toilets have been completed and we have funds for another 22. So hopefully in 2021, all 69 will have been built. Importantly this project has provided much needed casual employment.


This is not another nativity story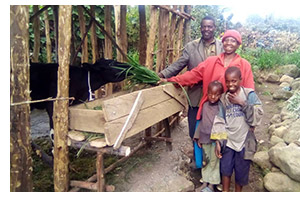 Life is tough for the historically marginalised people in northwest Rwanda. In the middle of lockdown, they were hit by heavy rainfall and high winds. We had only recently provided this family with a new cow and a cow shed, not knowing that this shed would become the family home (with the cow as a 'guest') when the fragile family home was destroyed by the appalling weather. Thankfully, a new family home is being built as I write.
As elsewhere, schools have been closed in the historically marginalised people's communities, so, in the light of no school meals, we have provided food and hygiene packs to families. Alongside this, we have purchased additional land for one of the agricultural cooperatives and are launching a pilot water filter project in one of the villages. We have also been asked if we can fund the renovation of some other houses that are in the most atrocious condition.


Prayer: There are so many needs and so many projects we could support. Please pray for wisdom as we discuss priorities with our partners. Also give thanks for what is being done.
Our Christian literature ministry
Distributing Christian Literature is one of our three core objectives, the other two being working with families and children at risk, and leadership training. You may have heard me say that there is another kind of famine in Africa – a Christian literature famine.
The Essential Series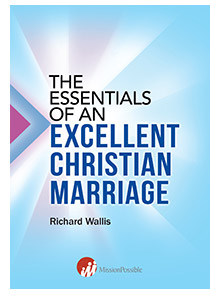 The first book in the series 'The Essentials of Excellent Christian Leadership' was published in 2018 and has been distributed to over 3000 church leaders in Africa and Asia. It has also been incorporated into various training programmes in Africa and has been translated into Swahili and Chichewa. Now the second book in the series has been completed (see picture to right). Sovereign World Trust has committed to distributing at least 1500 copies to leaders in Africa and Asia. It has been designed as a training manual, so should reach many more couples. This month a start has been made on the third book in the series 'The Essentials of Understanding the Bible'. The aim of this book is to help new Christians in Africa/Asia to navigate the Bible in an easy way, guiding to key passages of Scripture, teaching good basic doctrine, and relevant application.


Story Keepers
You may remember The Story Keepers, an animated Christian video series produced 25 years ago. Coad Media working with CityBibles have produced a booklet of the Gospel of Mark with pictures that connect the booklet to online videoclips. The aim is to distribute 50,000 copies in Russian through our contacts in Eastern Europe. We are sure that this booklet will help children and their parents get a better understanding of the Gospel, which in turn we pray will lead to a personal relationship with Jesus. It is a long time since our first literature project in Russia – sending book packs to remote newly planted churches across the country. I know I easily get excited, but the opportunities of this new project really are so exceedingly exciting!


Book Packs for Malawi
We raised funds for this project as part of our Christmas appeal. However, COVID-19 impacted on our plans, which was to give out book packs sourced from the UK during our proposed visit in July. This visit did not happen. So instead we have used some funds to supply Bibles and Christian books in Chichewa (the local language) at several conferences. The rest of the funds will be used to send books from the UK to Malawi in the next few months. Pictured is Alinafe teaching her Sunday School at last with a Bible with no missing pages.
Prayer: 'Christian books change lives.' Please pray this is true of literature distributed through MPUK.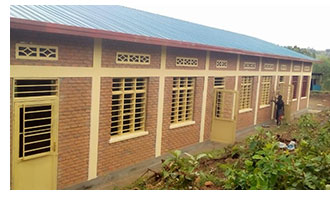 New nursery school
In the Spring newsletter, we showed a picture of the foundations of a new nursery school in Kabahire in Cyangugu Diocese in Rwanda. We have progressed this project thanks to a substantial one-off gift. This project has also provided much needed casual employment in the village. See picture right.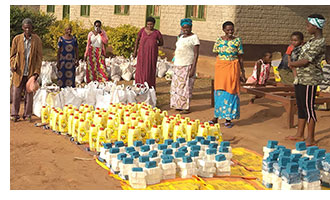 The James 1:27 project
The Star School has twinned itself to a widows' village close to the school. Several children on our sponsorship programme live in the village. In recent weeks we have funded food and hygiene packs. The hope is to launch an income generating project for them. Picture of the first distribution is to the right.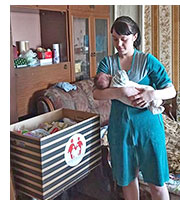 This is real treasure
As well as supporting the baby box project in Bulgaria, we are supporting a baby box project in Ekaterinburg in Russia. Recently, during the pandemic, 17 year old Veronica gave birth to Yaroslav in the city. Her parents are not alive and she received no maternity assistance. The MP team have been advising her as well as mentoring her emotionally and spiritually. On opening her baby box, Veronica tearfully exclaimed "This is real treasure". See picture to right.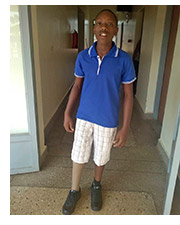 Dreams becoming reality
Elisah is on our Star School sponsorship programme and had a leg amputated after being bitten by a wild animal. Today he can walk again without crutches with his new prosthetic leg. We also hope another sponsored child Musa will benefit from a prosthetic leg in September. This has been funded by one off gifts from MPUK supporters. In the midst of COVID-19 it is wonderful to share good news. See picture of Elisah to the right.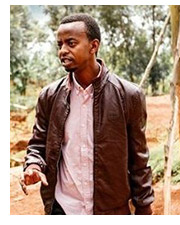 Next generation leaders
One of the joys of working in Rwanda for over 20 years has been to see next generation leaders grow into today's leaders. Of course, there are always next generation leaders and I met one a few years ago working in the Diocesan Technical School in Cyangugu. His name is Odel and it is our joy to facilitate him going to All Nations College just north of London. See picture of Odel to right.

And finally…
Please continue to prayer for MPUK and our overseas partners. To be honest, we are staggered by what God has chosen to do through this small Christian mission society. To Him be the glory.


Richard