'Faith Hope and Love in Places of Strife'
Our 2018 Christmas Appeal

In our autumn newsletter, I wrote that whilst Mission Possible is not an emergency relief organisation moving from country to country, we do work in two countries where there is civil strife – Burundi and Ukraine. Our aim in 2019 is to increase our support for both countries bringing hope to situations that at times seem utterly hopeless. Hence these two countries will be the focus for our 2018 Christmas appeal.

Perhaps the most valued gift you will give this Christmas?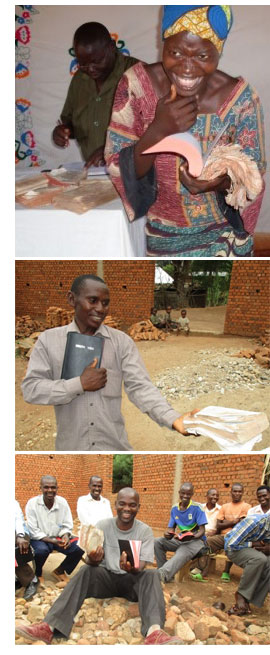 Many Burundian church leaders use Bibles that are torn with missing pages. Why? Because these Bibles have been passed down from generation to generation and have spent time in the bush when Burundians fled as refugees during the conflict over the past 50 years. These are testimonies from 3 Burundian church leaders:
"All I had was a New Testament with many missing pages given to me years ago by my father"
"My old torn Bible only had from Nehemiah to Matthew."
"Often I had no access to a Bible when needed. I shared an old Bible with several people."
Each of these church leaders now has a new Bible but there are so many more who soldier on with just part of God's Word, and most have never even seen a commentary.
For £30, we can provide a church leader with both a new Bible and a New Testament commentary in their own language, Kirundi, plus a day's training on how to use the commentary. In time we hope to extend this project beyond current church leaders to next generation leaders. And how do these church leaders describe such gifts? "This is gold"; "Now I have my daily bread"; "This is a miracle".
Surely this will make a high-impact life-changing gift this Christmas.
(Pictured are old Bibles for new)

A holiday of a lifetime?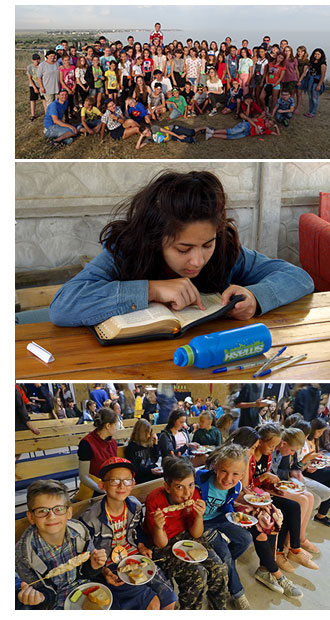 MPUK is not going into the travel business! But can you imagine living in abject poverty in a Ukrainian village called 'the village that cannot be accessed'? My wife Ruth and I did reach the village in October but the dirt track was as rough as an African track and we could not imagine what it must be like in winter.
The highlight of any week for the children in this and other similar villages near Odessa is the weekly visit by the Mission Possible team for Bible Club. This involves 2 hours of games and teaching after school, either in the open air or in a dingy small hall. The dedication of the local MP team to this ministry so impressed us.
In some ways these children are prisoners in their remote villages. Imagine again what going to a summer camp would mean to them. That is what we would like to do in 2019 – send the older children to a week long summer camp in lodges near the Black Sea – truly a holiday of a lifetime for these children where they can have fun and learn more about Jesus. £60 would fund a child to go to this summer camp.
(Pictured are previous summer camps)

Our Christmas appeal
We would welcome gifts from £10 to £1000. Some people think that a £10 gift cannot make a difference. But 100 gifts of £10 gives us £1000! With £1000, we can buy 18 sets of Bibles and Commentaries in Burundi (plus training) and send 8 children to the Ukraine summer camp.
You can designate your gift either to Burundi or to Ukraine (just let us know). If you do not designate your gift, we will split your wonderful gift equally between Burundi and Ukraine.
You can give by:
sending a cheque (payable to MPUK) to
MPUK, PO Box 597, Huntingdon, Cambs PE29 9ET
making a donation via our website www.mpuk.org
transferring your gift directly into our bank account:
Mission Possible UK Sort code 40-52-40 Account 00092063
Thank you so very much and wishing you His joy and peace this Christmas.
Richard and the Mission Possible team