Mission Possible UK

Spring Newsletter 2019
I am told the word 'new' appears over 300 times in the Bible. I guess most of us like a combination of the old and the new. That is probably true from the clothes we wear to the songs we sing in church. And it is similar for Mission Possible UK regarding projects. There are things we continue to do joyfully year on year, alongside embracing new projects, often arising from what we call divine appointments. For us, it is not 'new for old' but 'new and old'. In this newsletter, you will read about both.
The Star School: MPUK's first project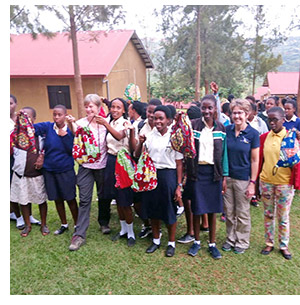 A first project is always special – in our case purchasing the hillside for the Star School back in 2006. In recent years, we have stopped funding buildings and focused on turning the school into a place of excellence, addressing issues such as safeguarding and making the school disability-friendly.
During our visit last year, senior female staff members shared with my wife Ruth concerns relating to 'period poverty'. Our response to this was to equip a new girls' room which was opened in January. Also in January, two couples with considerable medical experience were visiting Rwanda and kindly agreed to drop into the school en route to Cyangugu to run separate hygiene seminars for girls and boys. These seminars were well received. The couples generously donated kits to the girls supplied by 'Days for Girls'. Pictured above are some of the girls with their kit bags alongside trainers Sue and Carrie.
The walkway project is almost complete and it has been a joy to welcome more children to the school over the past few months with lower limb disabilities.

Labour of Love School: a new Zambian project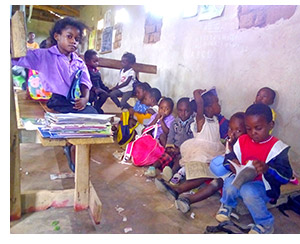 I met Pastor Titus when Ruth and I spoke at a leadership conference in southern Zambia in 2012. I was impressed by this humble man of God, so we did not hesitate to accept his invitation to speak at a leadership conference in his home town of Kabwe in central Zambia in 2015. When he shared in January that he had opened a new community school in Kabwe for 150 impoverished children run by 6 volunteer teachers, MPUK decided to send a small grant to the school which has been used to buy some chairs. Pictured right is a current classroom at Labour of Love School.
Prayer point: Please pray for old and new – the now established Star School and the nascent Labour of Love School.
Russia: A Slave Girl in a Foreign Country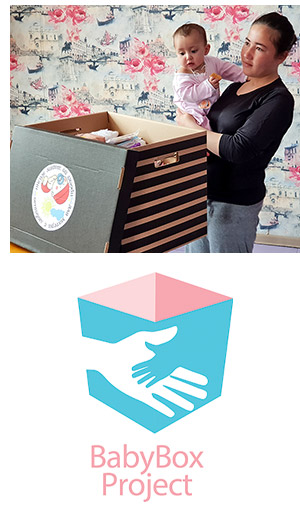 In the early days, we supported a ministry for street children in Russia. This has developed into a family at risk ministry. The stories are no less compelling. Here is Sonan's story as told to us:
When Sonam was 14 years old living in Tajikistan, her parents sold her to be a servant to cover their debts. She was taken to Russia to work for a man with five children. The man treated Sonam cruelly and abused her. Two years later she gave birth to a baby girl who became the only delight in her life. But Sonam's situation became more difficult. The man forced her to beg on the streets with the baby – his own child. Eventually, the police picked up Sonam and her child from the street. The baby was placed in a hospital and the authorities asked us to take Sonam into our shelter home.
Sonam was desperate. She was from Tajikistan, so legally the baby could be returned to her father. We told Sonam that there is One who can help and do miracles. Every day we prayed with her. And we received an answer to our prayers: the court ordered the child be returned to Sonam, and the Tajik Embassy was ordered to arrange for their return home to Sonam's mother! Sonam was overjoyed. When it came time to say goodbye, we gave her a Baby Box, items she would need for the trip and a New Testament. We hope and pray that the Gospel message we sowed in her life will take root and grow in her heart.
Each baby box costs £60. In 2018, Mission Possible teams distributed 405 baby boxes in Bulgaria and 70 in Russia.
Prayer point: Thank God that our teams have distributed many Baby Boxes and pray for Sonam as she starts her new life.

The Red Zone Community project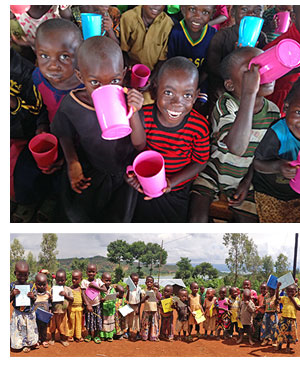 This project was launched in 2016, feeding children on Nkombo Island on Lake Kivu in Rwanda. Since then, it has developed into a community project on both Nkombo Island and another small island nearby called Ishwa.
Working in partnership with Cyangugu Diocese, this project includes providing highly nutritious porridge for several hundred nursery school children, providing school resources and to date supplying over 300 water filters as well as simple hand washing facilities to households on both islands. Francine's feedback is typical of what has been shared with us: "I used to get water from the lake and let it settle for a few days as the water at the top of the bucket would be less dirty. These water filters are good. They are simple to use and do not break. I have noticed my youngest child now has no health problems."
Prayer point: Pray for our project manager Boniface who manages this project and is now the Diocesan Safeguarding Officer. We are funding him to attend a safeguarding training course in Nairobi this month.

Historically Marginalised People project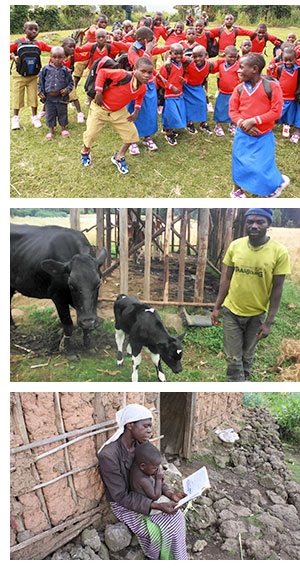 I often write about the amazing transformation we are seeing in the historically marginalised communities in Rwanda. Now let us delight in what they say about this project:
Adela Murekatete says "My children now go to school. They will not suffer as I did. My joy is seeing my children just like other children going to school". Pictured is first day back at school in January. Through our new £5 per month sponsorship programme, MPUK funds school uniforms and school meals.
Ildephonse shares "My cow is heathier than other cows. My children now drink milk and by selling manure from the cow, for the first time I can save a little money". Now some of the first cows we supplied are having calves, so other families are able to benefit from this project.
And Beatrice writes "I dropped out of school because of poverty and hunger. Due to the adult literacy programme in our area, my eyes are now open. Today nothing can be hidden from me. Because of reading and writing, I can learn anything!!!" Pictured is Beatrice reading to one of her four children. In January we launched our third literacy programme.
What is new?
We have purchased additional land for one of the three agricultural cooperatives that we support, and we are soon to launch a new goat project.
Prayer point: May more historically marginalised people come to know Christ as their Lord and Saviour.

Partner profile: Bishop Nathan Amooti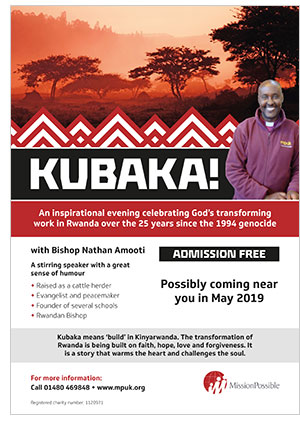 This the first partner profile in a series we will be doing over the next year. Bishop Nathan is founder of the Star School and also Bishop of Cyangugu where we have our Red Zone Community projects. As a boy, he was a refugee in Uganda caring for cattle. He was sponsored through college, trained as a teacher and became headmaster of a primary school in Kampala before returning home to Rwanda from where his family had fled prior to the 1994 genocide. On his return to Rwanda, Nathan was appointed Diocesan Director of Education in Kigali and spearheaded many social action projects in those post genocide years. After ordination, he pastored the Three Mango Tree Church meeting each Sunday under three mango trees. In 2012, he was appointed Bishop of Cyangugu – a remote part of Rwanda bordering the DRC. Nathan is married to Esther. They have three children – Jonathan, Liz and Joshua.
Prayer point: Bishop Nathan will be touring with us in May speaking in the Yorkshire Dales, Liverpool, Evesham, Torbay, Dorset, Bedford, Royston, Biggleswade and Huntingdon. Please pray for this tour.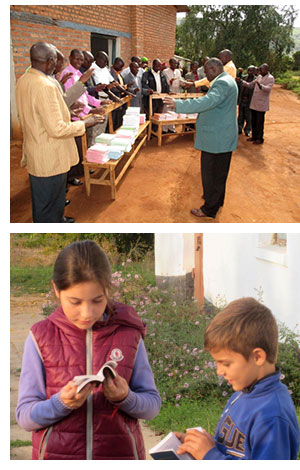 Christmas appeal
Our Christmas appeal was for Christian literature in Burundi and summer camps in Ukraine. We had a wonderful response. Already more Bibles and commentaries are being distributed in Burundi. Pictured to right: praying over commentaries in one of five places where they have been distributed. Also, in Burundi, we are about to launch our income generating project as well as continuing with our meals project.
We have to be patient about the summer camps in Ukraine as spring is only just arriving. These camps will combine fun with learning more about Jesus. When visiting the Ukrainian villages in October, we distributed clothing, shoes and games. One amusing moment was seeing a child walking away in high heeled shoes which were far too big for her! But we also distributed New Testaments – and what I like about the photo to the right is that it was not posed. I know as I took it!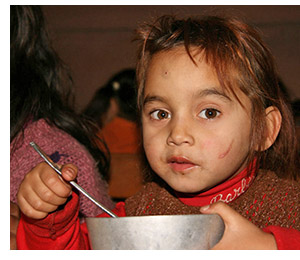 Bulgaria
We have sent another grant for MP's soup kitchen project for Roma children in Bulgaria. Our Roma ministry is not unlike our HMP ministry in Rwanda in that we are serving highly marginalised communities in both countries. As well as running soup kitchens in the winter, for many years MP's team has provided literacy education for children, youth, and adults, as well as tutoring lessons for Roma children who are struggling with their studies at school.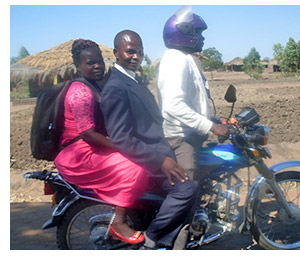 Malawi
We say we work in the Great Lakes Region of Africa but we had never worked in Malawi, which has a magnificent lake, 365 miles long and 52 miles wide (easy to remember statistics!) Now we are working there! I had an email from Pastor Evance asking for copies of our leadership book 'The Essentials of Excellent Leadership'. I responded: Why not translate it into your own language and print it locally. He did exactly that, printing 500 copies and has been giving a series of leadership seminars as well as giving copies to other Malawian pastors who have asked us for copies. Pictured is Pastor Evance with his wife Elisa returning from a leadership training seminar by motorbike taxi.
Hope all this excites you as much as it does me.
Richard