Mission Possible UK

Spring Newsletter 2022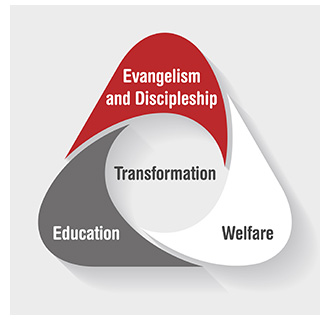 I have always been fascinated by advertising slogans: "Every little helps", "Just Do It", "It's the Real Thing", "Beanz Means Heinz" and the clever "Love It or Hate It". Mission Possible is not a brand and we do not have a slogan. But if we had one it might be 'Changing destinies before and after death.' Of course, we cannot change destinies 'after death', but we can point people in the right direction. Hence our support of Christian leaders as they share the Gospel, plant churches, run discipleship courses, train next-generation leaders and more.
If you go down to the woods today…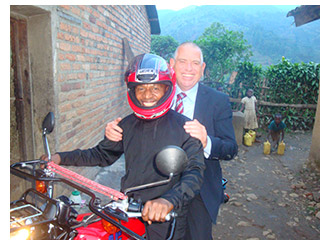 One such person we have supported for the last nine years is evangelist and church planter Martin in Rwanda (pictured right with me). He was called to work in the Nyungwe rainforest, which is the location of the sources of both the Congo River and the Nile. Ruth and I have had the privilege of visiting several churches that he has planted, and it was after conducting a marriage conference that he encouraged us to write our marriage training manual. I love that. Someone who is ministering in the depth of a remote tropical rainforest has prompted a book that is now being used in several countries in Africa.
Go tell it on the mountain…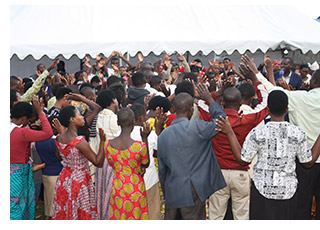 We have also supported outreach activities on the foothills of mountains. Pictured is a crusade on the foothills of the Virunga Mountains in Rwanda taken two years ago. Now that lockdown is over in Rwanda, we hope to resume outreach activities in these communities again later this year.
Bearing gifts we traverse afar…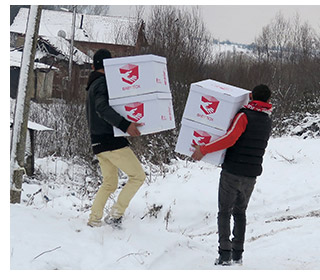 Many of our supporters have sponsored at least one baby box – and of course, these are given to impoverished mothers as a much-valued gift. However, pastors in the places where they have been distributed tell us they have brought other wonderful results. Mothers who had not attended church are now actively involved and in some communities, crime has been reduced as more people turn to Christ.
Star of wonder, star of light…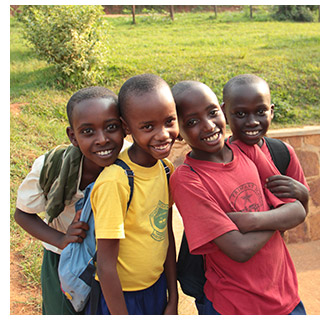 The Star School was our first project, and we are so thankful for those who invested in the school through child sponsorship and one-off gifts, equipping the school from buildings to textbooks. The slogan for the school is 'Choose to Shine' and thankfully, after the challenges of the past two years, the school and the children have started to shine again. The children have now had their first Covid vaccination and below are links to two videos – the first one is a short, delightful video of the children enjoying the new walkway at the school, and the second includes children rubbing their arms after receiving their vaccination.
http://youtu.be/7qxTrRRZNR0
http://youtu.be/hb67I0hoalw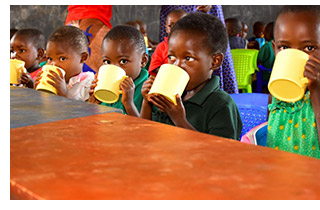 Ishwa, on Lake Kivu in Rwanda, is a beautiful island inhabited by poverty-stricken people. The main source of income is fishing, but the lake has been overfished, so many men go each year to fish in Uganda. We have completed the water filter and toilet project on the island but continue to support the nursery school though our Champion a Child programme. These children are dreaming big dreams with one pupil saying, 'when I leave school, I will be a teacher'. Each day the children drink highly nutritious porridge. This year we will be exploring the possibility of an income generation project on the island.
High on a hill was a lonely goatherd…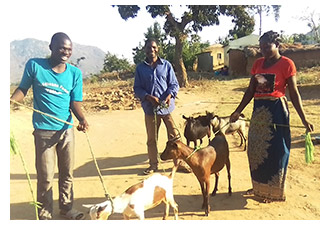 I have described our ministry as a foothill ministry and in the background of the picture to the right, you can see the foothills of Malawi's highest peak. Goats are great: they produce milk, meat and manure, do not require housing and suffer from fewer ailments than most other animals. So, they are cheap to maintain. Loveness Goodson gave her appreciation to Jesus for making it possible for her to have a goat, saying the gift will help her to send her children to school.
One potato, two potatoes, three potatoes…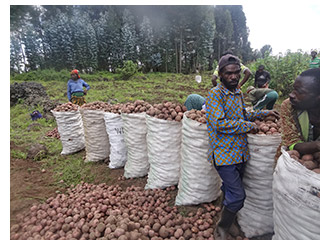 We have facilitated the establishment of six agricultural cooperatives in Rwanda and Malawi. Crop rotation is important, though to date Rwanda has focused on potatoes and Malawi on tomatoes. These cooperatives do more than provide food to eat and crops to sell; they are also about self-worth for people who at best only have casual employment.
Mission Possible in Bulgaria
Nadia: a role model at 14 years old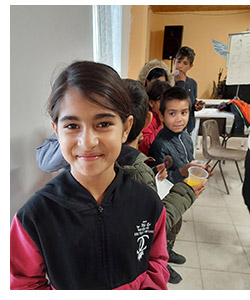 As the pandemic continued and with schools closed, Mission Possible Bulgaria trained twenty-one volunteer teachers to give lessons in local churches. One of the girls trained was 14-year-old Nadia who was a member of the Sunday School at her church. She says, 'I want to help the children do well at school because I myself have received so much help'. The children learn to read easy words like "mama" (mum), "masa" (table), and soon also "Isus" (Jesus). The textbook teaches the children to read as well as the basics of the Gospel. The children are also given meals and clothes as they come from needy families. Nadia's dream is to complete high school and go to college. She is already a role model followed by the younger children. Nadia is pictured right.
Katya: 'I feel significant'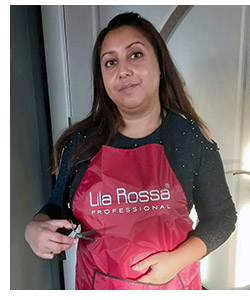 I am Katya, a woman of Roma origin. I grew up with a lot of deprivation. I did not go to school and remained illiterate. I heard that Mission Possible was organizing a course for hairdressers, free of charge for the socially disadvantaged. Such a course usually costs so much money, and I could not afford it. That is why I applied for the course. I started the course with great hope that my life will change. It was good because the teachers started the classes every day with prayer and Bible verses of encouragement. Today I have a diploma – a certificate of competency recognized by our government, which certifies that I am a significant person! Thank God for the chance to be significant!
In September, some of the students took part in a new kind of evangelism. They set up two tents where they cut hair for free and during that time shared about their faith.
Please click http://youtu.be/etdda6TLdzI for a short video on this project.
Melody: 'I am helping the Lord'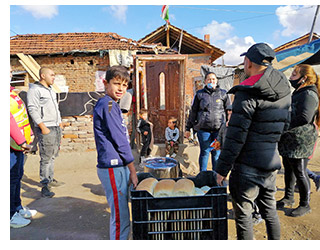 Just before lockdown, Ruth and I visited a slum district in Ihtiman. Mission Possible provides groceries, clothing and baby boxes so that local believers can take help and the Gospel to those in extreme need. Pastor Hristo was raised in this neighbourhood and teaches young people to show practical love to their neighbours. He says, 'Young people need to be taught early what it means to live as a believer'. Melody soon turns thirteen and is part of the local church. Melody helps distribute food as an 'Angel of Ihtiman'. When asked why he does this, he replies 'I help the Lord' as if it the most natural thing in the world. Pastor Hristo says 'The difference between our young believers and other young people is enormous'.
Bozhida: 'Be an example'
We have read about Melody above. Mission Possible Bulgaria have a programme to encourage young Christian leaders called 'Be an Example' and 14-year-old Bozhida is a next generation leader with a big vision of his whole village becoming Christians. Here is a link to another must see video clip about a wagon church: http://youtu.be/1FX21XtuIRg

Feminine hygiene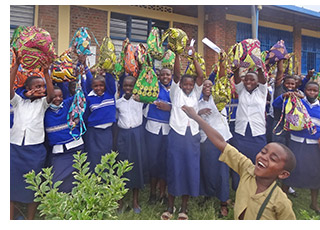 Good menstrual health management is a critical component of gender equality and vital to women and girls reaching their full potential. Using kits (see picture right) which include two safe and washable pads and last for several years, we have now run three successful pilot projects in different schools in Rwanda. See picture right of the pilot in one of the schools. This year, we will roll out the programme to all teenage girls in these schools. Below is a link to a must watch video from Days for Girls International about a similar programme in Malawi and we thank them for inspiring us into action. https://www.youtube.com/watch?v=7udd71gaJyg
Safeguarding training in Burundi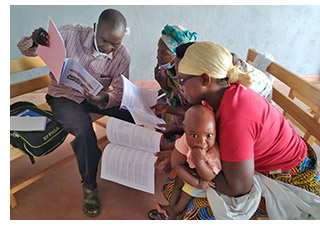 CORAT AFRICA generously permitted our partner REMA in Burundi to translate their material into Kirundi and we have supported a number of training courses there for Christian leaders. Pictured is a discussion session. Safeguarding is important, but let us be honest, it can be deadly dull. But not in Burundi. View this videoclip to see how delegates celebrate their training with their safeguarding training manual in hand: http://youtu.be/AcSl0hk99kw
The Great Bike Ride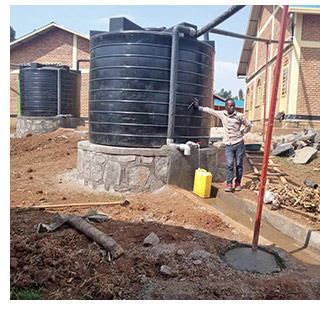 Matt was keen that we used part of the money he raised from his GBR for a water project, which is not surprising as he works for Anglian Water. You may recall that I shared about church planter Martin at the start of this newsletter, and back in 2016, Matt preached in one of his churches – at that stage in open air under a canopy. Since then, a church building and school have been constructed and we have been able to fund a much-needed rainwater harvesting system – see picture right. The Great Bike Ride has also funded a cow for a pastor planting a church elsewhere and will be funding a new house for a family on the Virunga foothills.
Praise and petition
There are times when we would appreciate a specific mushroom of prayer about an issue, or we would love you to join us in giving Him a crescendo of praise. If you would like to receive an occasional praise or petition email from us, please let me know.
Thank you for your interest in our work
Richard