Mission Possible UK

Summer Newsletter 2018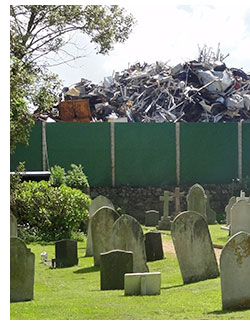 While on holiday recently in Guernsey, I decided to do a 20 mile coastal walk. At one point, I took a wrong turn and ended up down a cul-de-sac with a church at the end. What surprised me was what I saw at the end of the church graveyard – a huge pile of scrap metal. The juxtaposition of tombstones and scrap metal reinforced in my mind what I know is of lasting value in our lives. It is not what we acquire but what we invest in the lives of others. This is why we have a special name for our general project fund. We call it our 'Invest in Life' fund. That is what MPUK seeks to do with the gifts we are given – to invest in the lives of those we are called to serve. Thanks to your support though prayer and giving, we are investing in lives from the Ural Mountains in Russia to the fringes of the Kalahari Desert in Africa. Indeed, through our new book 'The Essentials of Excellent Christian Leadership', we are now investing in next generation leaders in many parts of Asia too.
Investing in Life at the Star School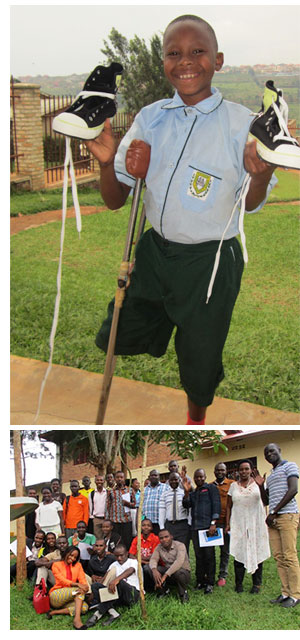 Last year, we built a staircase and ramp to the building that is used as a dining hall, chapel and assembly venue. One reason for doing this was to make the school disability friendly. Earlier this year, we gave each child on the sponsorship programme a new pair of shoes. Musa, pictured right, was determined that he was going to enjoy both his shoes! I love his sense of humour.
This year, we will start laying new paved walkways across the school campus. Phase one of the project should be completed in July.
Mission Possible takes safeguarding seriously, and in April we sent two senior staff members from the Star School to Nairobi for a week-long safeguarding course. Since returning, they have now conducted a series of safeguarding training sessions for all staff at the school. Pictured right are some of the staff team taking a break during the training.
Prayer point: Please pray for the staff team as they invest in the lives of the children at the school.
Investing in Life in HMP Communities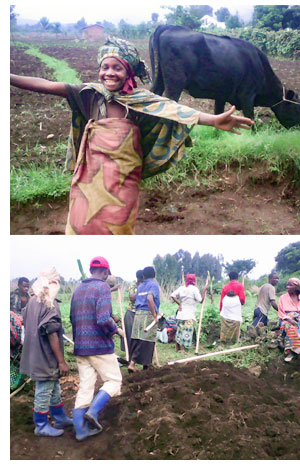 I call the photo to the right 'joyfulness unspeakable'. I do not believe this photo would have been possible four years ago. Neither my wife Ruth nor I saw one smile amongst the Historically Marginalised People (HMP) in the Musanze area of Rwanda when we first visited them in 2014. Marie, pictured right, has just received a cow because someone in the UK decided to invest in the lives of Marie and her family. Some of the cows gifted to families are now producing calves and so are blessing other families in the community. We need to start building more cow sheds for these calves!
Planting has now started on the third cooperative that we established for the HMP. It is back- breaking work (note the lady in the picture holding her back), but fosters great community spirit as well as providing food for villagers.
Prayer point: Thank God for the infectious joy we see on the face of Marie.
Investing in Life in the Red Zone Community
Our project is at the northern end of Nkombo Island on Lake Kivu on the border of Rwanda and the DRC. We continue with a feeding project for the most vulnerable children in the community and then last year extended our support to providing water filters, hand washing facilities and hygiene training. We have now completed this project in three of the seven villages we are supporting and have funds for two more villages. When I visit this September, we will be exploring sustainable ways to support the ongoing needs of the Red Zone Community and also the possibility of extending the programme to a very small island called Iswha, just off the northern tip of Nkombo.
The pictures to right could have been captioned: 'Now I can brush my teeth with clean water' and 'Who needs taps when you have pedal power!'
Prayer point: Pray for wisdom as we discuss in September new ideas to support the Red Zone People.
Investing in Life in Bulgaria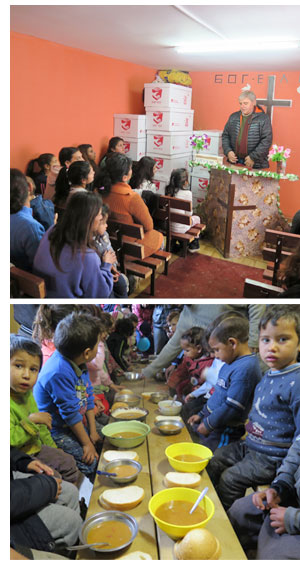 Since the amazing response to our 2016 Christmas appeal for Baby Boxes, we have invested significantly in the lives of the marginalised Roma in Bulgaria. Our team has begun throwing 'Baby Box Parties' where baby boxes are presented to needy mothers, teaching and counselling are given, cake is served and games and music are enjoyed. Also a booklet is now included in the baby boxes where young mothers find advice about pregnancy, childbirth, baby feeding, daily care, child development and more. It also includes specific advice for fathers. In circumstances where parents do not receive guidance from elsewhere, this booklet ministry is vital. Pictured right is project director Roumen in a Roma Church.
We have also been supporting winter soup kitchens in the Roma communities in which we work. The modest church buildings open their doors not only to feed hungry children but also for literacy classes and safe places to play. The gospel is also shared. I can recall hearing a powerful message by a Roma teenage girl when I visited a village in 2016.
Prayer point: Pray for our summer camps for the Roma children.

Investing in Leadership Training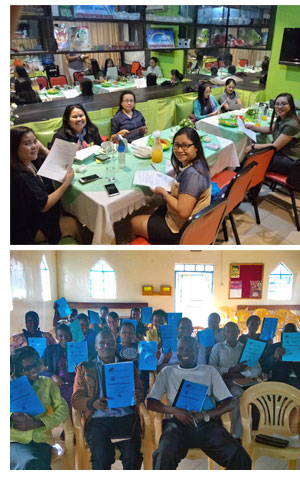 We have received encouraging responses from church leaders who have received copies of The Essentials of Excellent Christian Leadership. This is following the distribution of 1900 copies made by the Sovereign World Trust. Tools with a Mission are also sending copies to Tanzania and Zambia, and Messiah Ministries are taking copies to Uganda. If you wish to see the content of the book, simply click on the book cover image on our website.
We have been asked if we could publish a book in a similar format on marriage and family relations. This is something we may consider as a 2019/2020 project. Pictured right shows photocopies of the book being used in Kenya and the Philippines.
If you know of anyone in Africa or Asia who might benefit from this material, please let us know. The book is free, though we would ask for a gift towards mailing costs.
Prayer point: Pray for those using this training material.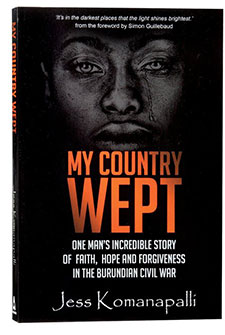 My Country Wept
Our partner organisation in Burundi called REMA is headed by Theo Mbazumutima. In 1993, when he was a teenager, he was forced to flee Burundi when tensions between Hutus and Tutsis escalated. Theo's dangerous and incredible journey fleeing the civil war is an amazing testimony of God's miraculous intervention, protection and guidance, bringing Theo to such a place of forgiveness that he is now a peacemaker. His story is told by Jess Komanapalli in a new book called 'My Country Wept'. (Published by Authentic Media and available in Christian Bookshops and through Amazon.) I was a Christian bookseller for 30 years and count this book amongst the most powerful testimonies I have ever read, so the book comes highly recommended.

One Big Family in Ekaterinburg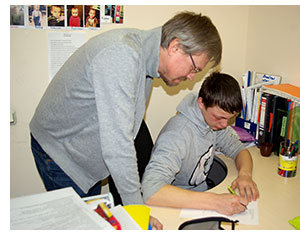 Andrey Ivanov leads the Ekaterinburg ministry centre with his wife Natasha. He writes 'For 14 years we have fed, clothed and washed children at our shelter home and tried to reach out to their families. The greatest need of these children is to feel important and loved, to experience community and safety and to know that life has a purpose. For this reason we want our shelter home to be like a large family. Over the years, 460 children and some of their mothers have lived in our home. We have seen how children heal with 24 hour care. Our goal, when possible, is to return the child to his or her own changed family'. Pictured is Andrey helping a boy in the home.

African Meal Deal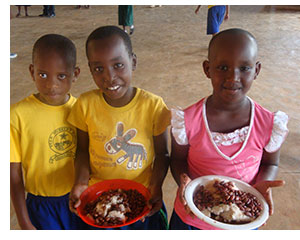 Several years ago whilst waiting at a service station near Stansted Airport, I saw a meal deal banner in the concourse promoting a sandwich, coke and packet of crisps for £3. This was the inspiration behind our Africa Meal Deal Programme. In the past year, the programme has fed the Red Zone Children on Nkombo Island and developed the kitchen garden at the Star School. Our hope is to expand this programme in 2019. Pictured right is lunchtime at the Star School.

…and finally
Thank you for your support which is impacting on the lives of those we are seeking to serve.
Richard Wallis