Mission Possible UK

Summer Newsletter 2019
A member of parliament recently said when referring to aid for Africa, "the world does not need any more white saviours. This just perpetuates tired and unhelpful stereotypes". We agree that the negative aspects of such stereotypes should not be perpetuated, while we continue to respond positively to God's command to give generously to the poor and to speak up on their behalf. MPUK seeks to do this by having genuine partnerships with those we work with overseas. One of our values is to 'respect our partners by listening to them and learning from them'. In this newsletter, you will read about some of the ways that we work with our partners.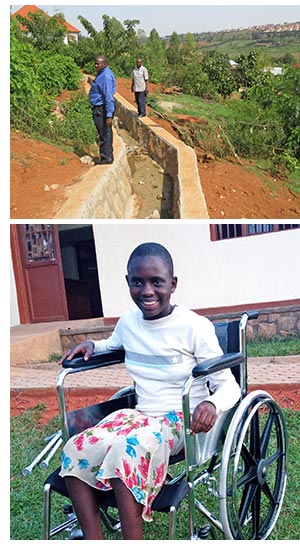 We are not passionate about drainage! But we listened to the pleas of the Star School when they said that a priority was to resolve drainage issues at the school. During tropical rainstorms, water was flowing through the school campus, eroding the hillside on which it is located and flooding a small village below. So we funded the construction of several deep ditches (pictured right). Headmaster Sam reports: "It is wonderful. During storms, I used to have to hide from our neighbours as they were always complaining. I no longer have to hide!"
We are passionate about supporting those with disabilities. Grinding poverty is wretched, but being poor and disabled is doubly wretched. The walkway project is now fully funded and construction is almost complete. So, we are focusing now on increasing the number of children with lower limb disabilities on our child sponsorship programme as well as providing new disability friendly toilet facilities. One of these children is Esther who joined our programme in February. She was struggling with crutches that were too short for her and looked unhappy. Pictured right is smiling Esther with her new wheelchair.

Summer Camps in Eastern Europe
Whilst in Ukraine last year, we were asked if we could fund the summer holiday activities for the villages in which we work. Thanks to the generosity of our supporters who responded to the 2018 Christmas appeal, we have been able to meet this need, and will report on this in our next newsletter. We have also been able to fund similar holiday activities in the Roma villages in Bulgaria. Of course, the children have great fun, but what inspires me is the way that so many engage with the Bible during these activities. (Pictured right.)
Ishwa on Lake Kivu in Rwanda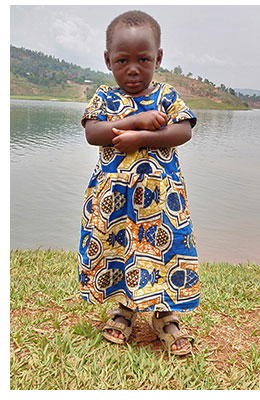 Something that delights me is that there are now people all over the UK praying for a remote and largely forgotten island in the heart of Africa. It is a small 'satellite' island close to Nkombo Island where we have worked since 2016. Ishwa has 457 households and a population in the region of 2700. Our first project on the island was to provide water filters and hand washing facilities for each household, together with basic hygiene training.
We were asked last year if we could support the new nursery school on the island. We agreed as it seemed to us that nursery school provision here is important because there is little to stimulate the minds of these children who possess nothing apart from the clothes they wear. Hence our new 'Champion a Child' project. For just £6 per month, we can provide a daily nutritious meal for the children each school day, a pair of shoes each year and have enough left to provide the school with some basic school resources. I know this is amazing. I am pleased to share that many of the children now have a champion. (See Juliene pictured above.) Of course, we ensure that the children who do not have a champion also have a meal each school day and a new pair of shoes. Soon we will start exploring if there is further support we can give to this island.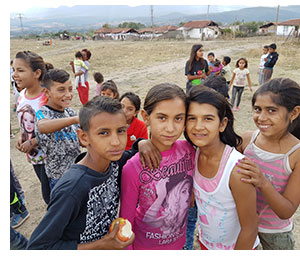 Recently, the Deutsche Welle magazine published an article titled How Faith Changes the Lives of the Bulgarian Roma People. It reported that "churches have achieved goals that the government has set out to reach without success: reduce teenage pregnancy, improve education, and increase employment. Additionally, alcohol consumption has decreased significantly, as has theft. Hygiene has improved and children are cared for". Responding to why, it was said that "the goals of the church are not political. Its mission is to change people's lives through the love of Christ. This mission brings hope and is superior to all other strategies and systems."
Mission Possible has worked in Bulgarian slum villages since 1998 supporting Roma churches, running adult literacy courses and job training programmes, distributing baby boxes, running soup kitchens and more. We have witnessed genuine change and renewal in the lives of thousands of people. (Pictured above: children in Roma village.)
Partner Profile: Ivo Ivanov (Eastern Europe)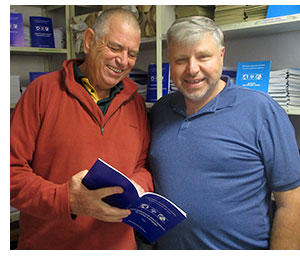 This is the second partner profile in a series we will be doing over the coming year. I met Ivo at a 'Children at Risk' conference in May 1998 and it proved to be a divine appointment. Ivo was raised in the underground church in Bulgaria. He had to flee the country as a persona non grata and ended up in Finland smuggling Bibles into the USSR with his wife Mirjami. They seized the opportunity that came with the demise of the USSR to distribute four million Bibles into the former Soviet Union as well as launch a three year Bible Study correspondence course. The first street children patrol was established in Moscow in 1995 and there are now a number of Mission Possible shelter homes across Russia. Pictured above is Richard with Ivo in Ukraine last year looking at the correspondence course material.
The Historically Marginalised People of Rwanda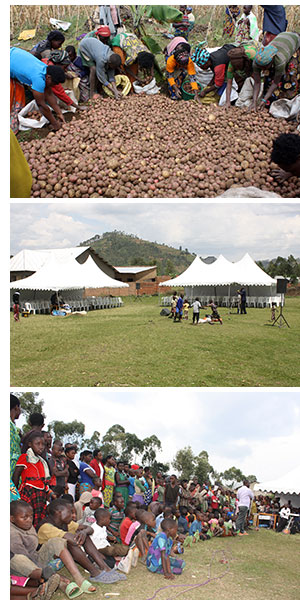 There are about 34,000 Historically Marginalised People (HMP) among a population of more than ten million people in Rwanda. They claim to be the original inhabitants of Rwanda and are related to other 'Pygmy' peoples of central Africa. Traditionally they were hunter gatherer forest dwellers with a skill in pottery. Between 1970 and 1990 they were forcibly displaced from their forest lands as a result of economic development and the creation of national parks. Many became destitute, suffering from malnourishment and ill health, living in appalling conditions and begging to survive.
We started working in some HMP communities in 2014 at the invitation of Transformational Ministries headed by Bishop John Rucyahana. Over the past 5 years, you will have read about our projects, ranging from forming land cooperatives (see picture of a harvest top right) and adult literacy classes, to supporting a dance group and our 'Back to school' project. Recently, we added a goat project to our cow project and will be exploring supporting a new basic health care project with our partners.
Transformational Ministries asked us last year if we would fund two marquees, 200 chairs and a PA system so that they could launch a new education programme in these communities. We agreed as this would support a core aim of this community development project as identified in 2014 'to teach core values and life skills through a community education programme aimed at children and adults and creating a spirit of self-esteem'. (Pictured above is preparation for the first conference and part of the large crowd who attended one of the sessions.)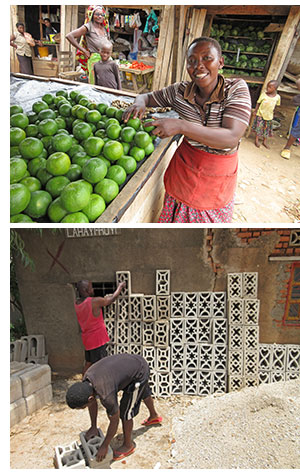 The Foreign Office advice about Burundi is stark. It advises 'against all but essential travel to Burundi. If you don't have an essential reason to stay in Burundi, you should consider leaving.' Thankfully in REMA we have partners who are meeting the needs of people 'under siege'.
Our focus over the last few months has been supporting an income generating programme in Ruziba in Northeast Burundi. To date, 40 microloans have been given to men and women after they have received training in setting up small businesses. Already, some of the first beneficiaries are repaying their loans as their businesses are doing so well. This fruit seller shared "I am not sitting idle no more; this small business is making me very busy. I have no time to waste!" The small businesses supported include hairdressing, dress making, selling clothing and brick making (see picture to right) as well as fruit selling. The next phase of this project will be investing more into the businesses that are ready to grow.


On March 14th, I began to receive emails from Malawi about roofs being ripped off buildings, flooding and general devastation. Cyclone Idai had hit southern Malawi affecting nearly a million people. One of the advantages of being small is that we can be agile and respond quickly. Within a week, relief funds from us had been received in Malawi. (Top three pictures right show blankets, food and roofing sheets being distributed as part of our relief activity).
For some years, I have felt we should add Malawi to the portfolio of countries in which we work. You may ask why. Firstly, most lists of the poorest countries of the world have Malawi in the bottom five. Secondly, with Lake Malawi on its eastern border, it fits within the Great Lakes Region of Africa where we work. Lastly, I have happy memories of my only visit to Malawi in 1974 when working in Zambia. The opportunity came in an unexpected way last year. Pastor Evance in southern Malawi asked me if I could send him copies of our leadership book. I suggested instead that he could translate the book into Chichewa and we would consider publishing it locally. Within a few weeks, he sent me a translated copy and as the book was published and distributed, a relationship gradually developed. A delivery instruction given by a pastor amused me: "Just send the leadership books through Mangochi minibus to drop them at Liwonde roadblock to police officers with my full name and phone number on the box". (Pictured below right is Pastor Frazer training next generation leaders, who are holding the Chichewa edition of the leadership book.)
We always start working in new places in small ways. So in addition to the leadership book and disaster relief, we are currently limiting ourselves to the vital priorities of Bible distribution and the provision of Sunday School resources. Please remember Malawi in prayer. Cyclone Idai was only on the news for a few days but they continue to live with the consequences of a largely ruined harvest.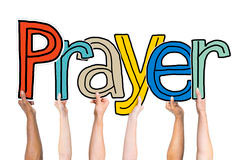 We greatly value prayer supporters. There is so much information in this newsletter and below is a suggested prayer diary:
Monday: Summer camps in Ukraine and Bulgaria
Tuesday: Ishwa (Please ask for photos of the school if this would be useful)
Wednesday: The Star School (Please ask for the annual Star School report)
Thursday: The Historically Marginalised People
Friday: Ivo Ivanov and Eastern Europe (Russia/Bulgaria/Ukraine/Albania)
Saturday: Malawi
Sunday: Burundi
Breaking news: Bishop Nathan with whom I have worked for 20 years in Rwanda has just been appointed new Bishop of Kigali. Please pray for him.
This is everything for now. Thank you for reading our summer newsletter.
Richard