Mission Possible UK

Summer Newsletter 2021
Over the past few weeks I have been watching a BBC Two series called 'A Life in Ten Pictures'. It has been quite an eclectic experience for me. I have to be honest and say that until recently I had no idea who Freddie Mercury was! The series has made me wonder which 10 pictures I would choose if I was limited to this number to tell the story of Mission Possible. Maybe one day I will do this. I suspect that one of the pictures may be the photograph that I have chosen for our 2021 Christmas card. The picture itself will remain a secret until November but I can share with you that it is taken at one of the agricultural cooperatives that we support. This leads me to the first news item.
Agricultural Cooperatives: more than potatoes and tomatoes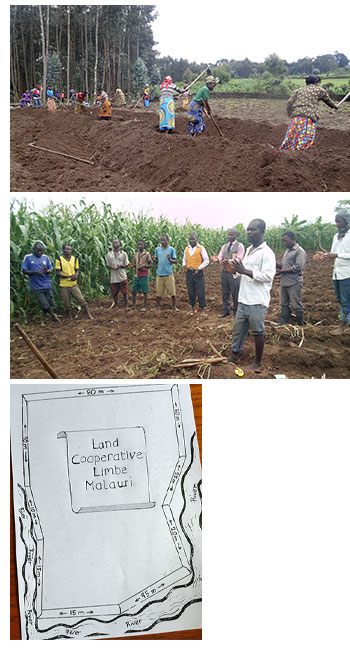 Since our last newsletter in March, we have launched our 4th agricultural cooperative in northwest Rwanda and our first one in southern Malawi. These cooperatives are such a powerful way to support those that we seek to serve. Certainly they help towards food security but they also give economic empowerment, engender an increase of self worth, promote community cooperation and in many cases introduce the whole concept of saving. That is a whole lot of positives! Pictured top is the new cooperative in Rwanda while below is a picture of beneficaries praying on the land in Malawi. We are renting the field for just £300 per year and it is amazing to see just how much land you get for this price. I have received a drawing with dimensions which you will see to the right. The most expensive part of the project was providing an electric water pump for irrigation using the river shown in the drawing during the long dry season.
The Virunga Project: same project – new name
We have worked with the historically marginalised people (HMP) in the northwest of Rwanda since 2014. The HMP are pygmy people who suffer discrimination and have lived in dire poverty. But there are also other people who live in poverty in this part of Rwanda and increasingly over the years we have included them in our projects. Therefore, we have decided to rename the project The Virunga Project as the communities we serve are on the foothills of the Virunga volcanic mountains. In short, the same ministry but to all poor people in these communities.
Discipleship training: laying solid spiritual foundations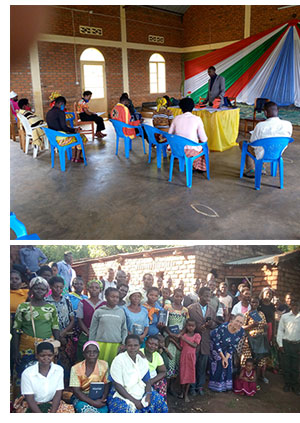 About 20 years ago a senior pastor in Uganda told me that Christianity in Africa is a bit like the River Nile which is about 4000 miles long but only a few feet deep. I think that is harsh but certainly Christians in Africa do not have the discipleship resources that we have in the UK. I was a Christian bookseller for many years, and I was aware of the stark contrast between the piles of books that people would buy at Christian events like Spring Harvest and Keswick and the total lack of any books in the homes of pastors that I visited in Africa. Hence our commitment over the years to discipleship training and the distribution of Christian literature.
In January we started supporting a new discipleship training programme which is being rolled out, parish by parish, in Cyangugu diocese in Southwest Rwanda. In the past few years, we have been involved in various building projects in this diocese (what I call the 'Nehemiah phase') and we are now entering what I am calling the 'Ezra phase'. This programme is being headed up by Reverend Jean Paul Usabyimana who is pictured with some of the trainees in one of the parishes.
In April, we sponsored a two-week YWAM 'Understanding the Bible' conference in southern Malawi for members of a group of churches that we support there. A family friend from Canada who I have not met for 40 years is now working with YWAM Blantyre, and our hope is to support these conferences in Malawi through funding Bibles which many of those attending do not have. Also working with the Sovereign World Trust, we are sending about 500 teaching books to Malawi including the excellent one-volume New Testament Commentary by Michael Eaton. Michael is a respected theologian based In Kenya and writes simply while maintaining a high level of scholarship.

The Essential Series: not just in English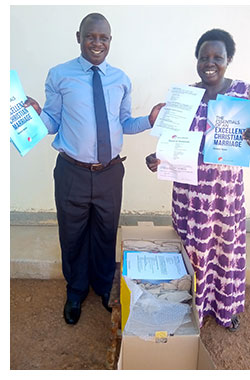 Calling this a series is probably a misnomer as currently only two books have been published in the series – the book on leadership and the book on marriage. But a third book on the Bible will be published next year. These books are available free online, and we distribute hard copies at no cost to various places in Africa. It is all part of our small contribution to fighting the Christian literature famine in Africa. Pictured are Pastor Julius and Joyce in Uganda.
The leadership book is now published in Portuguese by a team in Mozambique and has been used at training conferences there. As I write, the marriage book is being translated into Portuguese. Likewise, the leadership book is published in Swahili for Tanzania and the marriage book will follow soon. Finally, there are plans is to publish the marriage book in two Zambian languages.
Education, education, education: the well-known mantra remains true

Thankfully, the schools in Rwanda are now fully open again after being closed for nearly a year. We expected that some of the children we support would not return after such a long break, and there were a few who did not. Reasons included moving to different parts of the country, or indeed to bordering countries. However, most have returned which is wonderful.
This year we have supported two major projects at the Star School. First, we have funded textbooks for both the primary and secondary school. These will have a significant impact on educational standards at the school. See picture above right showing a few of the books for the secondary school. Second, we have contributed significantly to the building of a new classroom block at the school (see pictured right) to facilitate smaller class sizes. A reduction in numbers will not only improve the educational experience but also assist the school in being COVID-19 compliant. Note the trees which are part of another project to beautify the whole school campus.
As reported in the Spring newsletter, the children have returned on the 'Back to School' programme which is part of the newly named Virunga Project. Children have also returned to the nursery schools that we support on Ishwa Island and Kabahire village in the Cyangugu Diocese. Recently we sent funds to the churches in these communities so that they can reopen having complied with new Covid-19 related sanitation regulations. Also, many of the children supported on Ishwa Island are now benefitting from the new toilets built. Pictured are children at Ishwa School enjoying their daily highly nutritious soup.

Baby Boxes in Bulgaria: Rosa's story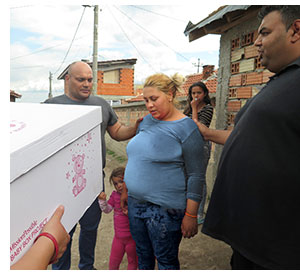 Over the years we have funded many baby boxes in Bulgaria, and we could tell you many stories. This is Rosa's story. "My husband is a good man, but he has no job. He collects and sells scrap metal and plastic bottles to put bread on the table. A few months ago, when I was pregnant, we could not afford anything for the baby. So, I prayed that God would provide. Then Mission Possible came to our village to give out Baby Boxes. We were both speechless. God has sent us everything we needed for the baby! Thank you to the living God who hears our prayers and helps us in our needs."
Krasnoyarsk: Same red corner – new purpose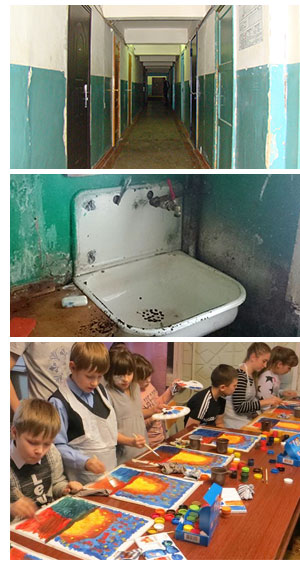 Come with me to an apartment block in Krasnoyarsk consisting of five floors and each floor has about 25 doors in the corridor. Behind these doors, residents have one or two rooms. At the end of each hallway is a toilet, a sink and a shower shared by the residents on that floor. Problems include alcohol, drugs, domestic violence and much noise. Children are left to their own devices – often because their single mothers must work to make ends meet.
In a room on the first floor, Mission Possible organises after-school care for the children. It starts with doing homework under supervision followed by games and food. On Fridays, lessons are about social behaviour and Christian values followed by a joint meal. And there is more. Teaching and guiding parents in the most difficult family situations is an important part of the project. This is our only project in Asia!
During the Soviet Union, 'red corner' meant a place at work or in an apartment building that was used for propaganda purposes. Mission Possible use the old 'red corner' for the after-school care programme and for Sunday School. Same corner – new purpose.


In our next newsletter we will be sharing news of our new job creation and safeguarding projects in Burundi. We will have a report on our new 'women at risk' project in Kigali Diocese plus some exciting news about a new initiative in Armenia.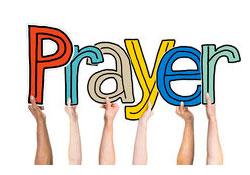 The reality is that we could do none of the above without the support of people like you – not only through giving but also by praying for us. Please pray for those we work with:
Rwanda: Bishops Nathan, John, and Francis / Burundi: Theo and Francois / Malawi: Pastor Evance, Elisa and Sheila / Zambia: Pastor Titus / Tanzania: Pastor Arthur / Bulgaria: Ivo, Mirjami and Roumen / Albania: Besa / St Petersburg: Vadim and Tanya / Ekaterinburg: Andrey and Natasha / Krasnoyarsk: Luba / Ukraine: Oleg and Elena.
Please also pray for their teams – these are the ones who work day by day at the coalface with the poor and marginalised.
Many many thanks
Richard