Mission Possible UK

Summer Newsletter 2022

UKRAINE: Window of hope in a time of suffering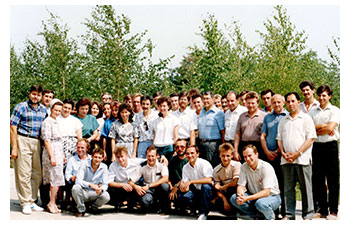 We did not mention Ukraine once in our Spring newsletter. Indeed, over the years, we have rarely mentioned Mission Possible's work in Ukraine as our team have quietly and faithfully continued week after week sharing the gospel and helping in villages in the Odesa region. But Mission Possible's ministry has not always been like that and certainly it is not like that now as our Eastern European Coordinator Ignat Ivanov shares.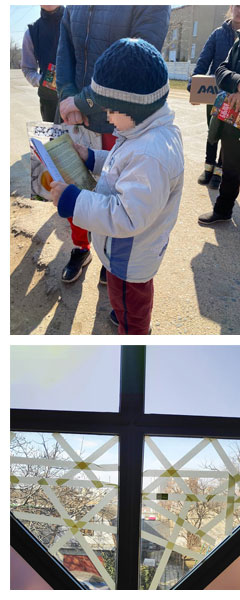 30 years ago, the Iron Curtain came down and a new era began in Eastern Europe. Mission Possible's work changed as 'Bible smuggling' was no longer needed. For some years Odesa became the hub of our work in Eastern Europe. Amongst other projects we trained groups of church planters there for the old Soviet Bloc countries. The picture top right shows one such group in 1992 with a much younger me on the left.
In the past three months, we have given some support for refugees in Romania and Moldova but most of our aid goes directly into Ukraine. You can read more about this and see some pictures by visiting https://mpuk.org/ukraine which was updated earlier this month. As you will read, we are giving more than aid packages; we are giving emotional and spiritual support in the midst of distress. Pictured right is a boy reading a Bible story book which was given when an aid box seen in top right was handed out. Daily life was a struggle for the people we work with before the war, and now, on top of this, many people are living in fear. Mission Possible has been able to help thousands of people. This is small compared to the suffering of an entire nation, but it is essential to those who have received it. Thank you for your support and please pray for protection for the people we reach out to and for our teams.
The picture to the right is a taped-up bomb damaged window at our office in Odesa – a powerful symbol of hope in a time of suffering.
To see a short one-minute video of our work in Odesa please click here: https://youtu.be/X0lRDZoIlz8

Ukraine: 'It was not a dream. Hell has come to us here too'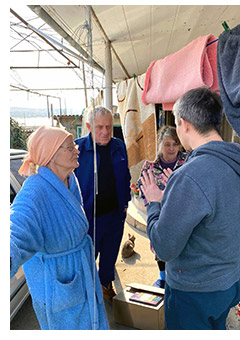 These were the words of Mikhail to his wife Galina after their home was destroyed by a missile near Kyiv in late February. As young children living in Eastern Ukraine during World War II, they experienced the horrors of war for the first time. Later they married and after years of hard work, they built their own home and anticipated peaceful retirement days. Then in 2014, war broke out in eastern Ukraine, destroying their home. They moved to a small apartment near Kyiv – not their dream place but at least a safe place … until February 24, 2022 when they stood again in the ruins of their new home. This time they fled to relatives on the outskirts of Odesa where our team met them. Whilst handing out an aid box, our team shared with Mikhail and Galina the Good News of Jesus who knows pain and suffering and brings hope including the promise of an indestructible home in heaven for those who receive Him into their lives.
Albania: new leader of MP's work passes away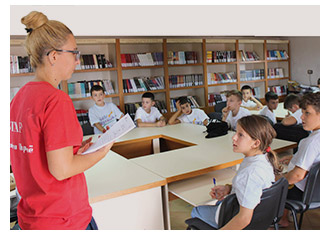 Last summer, Mission Possible in Albania celebrated 30 years of ministry and Besa Shapllo, who had led it since the beginning, retired. Edjola Dalaci, pictured right teaching children at last year's summer camp, took over as the new leader. Right after the outbreak of the war in Ukraine we received more shocking news: Edjola had suffered from a stroke and died a few days later. A joyful and talented young woman who loved the Lord was suddenly gone. Please pray for our team during this sad time and also pray for our work with children, youth and families in Albania.
Russia: Our work continues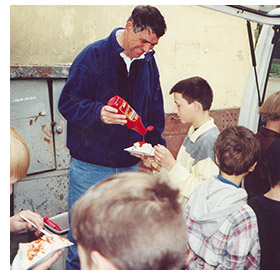 Please pray for Russia. As you can imagine, there are various new challenges faced by our teams there, but our work will continue as close to normal as possible. Team members are working hard to ensure the crisis does not adversely affect the lives of children and families served through our ministry centres. Amongst other things, they are seeking to raise more funds locally. Pictured is Richard on a soup kitchen patrol in Russia in 2000.
Bulgaria: Working in Roma communities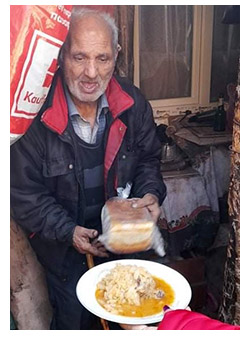 Last year, our team in Bulgaria personally distributed many hundreds of baby boxes to mothers. Many mothers, sometimes together with fathers, heard the gospel, were prayed for, received parental guidance and came to church.
Some of our Christmas appeal funds went to support our soup kitchen project, which reaches not only children but also many old people living in the most abject conditions. See picture right.
In our Spring newsletter, we told the story of Nadia. Now we have a delightful short video of her participation in MP's literacy programme in Bulgaria: https://youtu.be/5dz-Iq858tg
Educating children in Rwanda
Supporting the founding of the Star School near Kigali was our first project in Rwanda back in 2007. Our child sponsorship programme there continues along with various other projects. This year it will be funding the installation of solar power and a feminine hygiene project benefiting girls over the age of 12.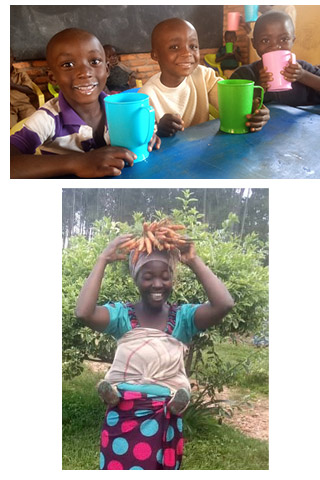 We continue to support two nursery schools in the Southwest of Rwanda. One of them is on Ishwa Island on Lake Kivu through our Champion a Child programme. One of the pupils at the school tells us "We do not eat breakfast at home, but the school provides us with porridge. Our meal at home is in the evening after I have collected firewood and my mother has returned from the market. Most nights we eat insamabza (silver fish) and ubugari (mingled cassava) and sometimes beans, maize flour and vegetables". The other nursery school is in Kabahire on the mainland. You may recall that school was held in the church building until a purpose-built block was built in 2020. Recently we purchased land for a new primary school in Kabahire. Funds are not yet raised to build the school, so the land is being used to grow vegetables. Recently there was a magnificent harvest of carrots which this mother is enjoying. Note the feet of her child which is on her back.
Finally, we continue to support children from the historically marginalised communities in northwest Rwanda to go to primary school – what we call our 'Back to School' project. Wonderfully, several of these children now go to secondary school. We have received this video clip – to be honest, at five minutes it is longer than our normal clips but if you have time, we believe it is worth watching: https://youtu.be/Gb-uAbZD_aI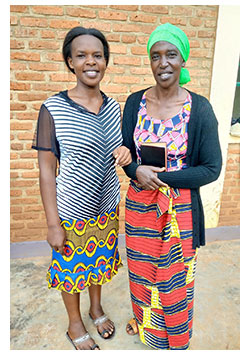 We are also committed to funding adult education. We have just started our fourth adult literacy project for the historically marginalised people in Rwanda – this course is being attended by 23 people.
In the summer 2021 newsletter, we shared that we were supporting the two weeklong 'Understanding the Bible' conferences run by YWAM in Malawi. About 10 of these conferences are held each year and this year we are supporting at least five of them. We have received this short two-minute video of one of them: https://youtu.be/4I907fTJmDs
We continue to receive powerful testimonies from the discipleship training programme that we are supporting in Cyangugu Diocese. Christine, pictured right with her daughter, shares "I was a Christian by name but did not have Jesus in my heart. I repented. The teachings have improved my relationship with my husband and children. At home we have started to pray and study the word of God every day and this daughter has joined the discipleship group. Today I have the power to witness to my neighbours".

Feminine hygiene project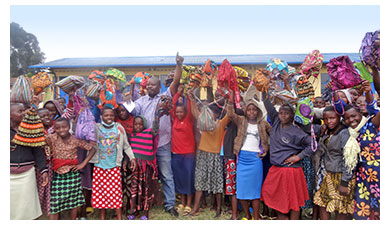 Ruth is coordinating this programme and about a thousand girls and women will benefit from it in 2022. The first project was in February at a secondary school on the foothills of the Virunga Mountains. The headmaster, pictured with pupils, is an enthusiastic supporter of the project. The next project was at the secondary school run by Cyangugu Diocese and soon after, another project was rolled out, benefitting both girls and women on Ishwa Island in the same diocese. In September, it is the turn of the Star School. This is a poor-quality video but is very short and worth seeing for the sheer joy: https://youtu.be/kXho_Bwd-0U
Housing project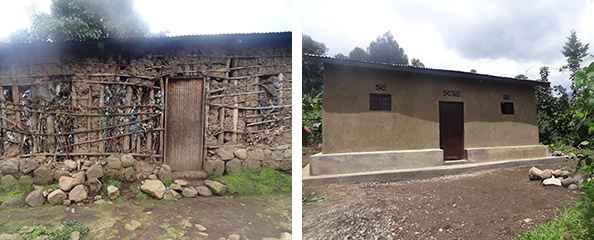 I have been involved in three housing projects. The first was in the Philippines in the 1990s. Then, in the 2000s, it was building homes for orphaned children as a result of the Rwandan genocide – they were called child headed families. Now it is on the Virunga Mountains foothills where many houses are in the most appalling condition. These before and after photos above tell the story – it is an issue of basic human dignity. We hope to build 10 new houses this year.
Cow project: Buy one, get one free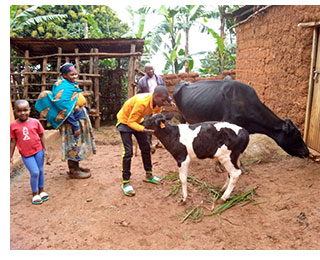 Bishop Nathan Amooti, Bishop of Kigali and founder of the Star School, delights in planting new churches. He asked us to support the pastors planting new churches by giving them each a cow. In the past four years we have provided seven cows. But we had a big surprise after Pastor Rudasangwa's cow was purchased. His cow gave birth to a beautiful calf not long after he received it – a double or bonus blessing. These cows are not only going to produce milk for the families but also for their neighbours.
…and finally
The last three months has been an extraordinary time for us at Mission Possible. We so greatly value the amazing generosity of our supporters. There is much in this newsletter to be thankful and much that needs praying about – and ending as we started, please continue to pray for Ukraine.
Richard