Mission Possible UK

Autumn Newsletter 2022

Ukraine: Bringing hope to people living in fear

As the crisis in Ukraine continues, we are carrying out the largest operation since Mission Possible was founded. Our team in Odesa has partnered with local churches in the war zones to deliver many thousands of packages of aid to families and elderly people who have no other source of support. The team also continues to distribute these packages to homes of the poor in villages around Odesa, bringing hope to people living in fear. Pictured below right is team member Tania giving an illustrated Bible to a family. Bibles and Christian literature are in all boxes.
In times of trial, many people seek God and some residents in the villages say, 'Only you believers help us!' Many professing atheists have now proclaimed belief in God. Teenagers especially have become open to discussions about faith. Our team has now reopened the Bible Clubs for children and teenagers that have been operating for many years in the villages. Our campaign 'Childhood for the Children' includes games and crafts, but also teaching sessions for those suffering from trauma. These clubs bring a semblance of normality to these communities. I say 'semblance' as a missile almost hit a building where the children meet. Thankfully, it hit a nearby high tree first, which changed its final direction.
Nikolay lives in Mykolaiv and shares:
'When the war broke out and our town was bombed, my family and I tried to look for ways to help others. But then a terrible thing happened: a rocket hit our beloved home. Our whole life was shattered in a moment. I was depressed and hopeless. Then Mission Possible workers came to my badly damaged home. When I saw the aid box together with a message of hope, tears came to my eyes. I was reminded that with God's help, our family has a chance to overcome these difficulties'.
Our focus will remain on the distribution of aid boxes, together with this message of hope. Our team is now reaching its target of distributing 12,000 aid boxes. Alongside this, our team is supporting other aid work, such as contributing to a church initiative to provide clean water for people in Mykolaiv, where the water supply system collapsed due to bombardments. For more please see:

Tanzania: One thing leads to another

In 2021, Mbeya Pastors Fellowship in southwest Tanzania took the initiative of translating MPUK's manual 'The Essentials of Excellent Christian Marriage' into Swahili. This manual is a resource to run marriage preparation and marriage refreshment courses. We decided that we should sponsor training days for pastors and their spouses in seven centres in this area of Tanzania on how to run these courses. The response was interesting. The overwhelming feedback was that much of this teaching was new to them and in one place the couples shared that they would not roll out the teaching until they had applied it to their own lives. At another place, men repented about the way they had treated their wives. Pictured are two couples on one of these training days.
Another thing that came out of these days was the terrible condition of many of the Bibles belonging to these couples. They had been passed down generation to generation, were old translations and had missing pages. The photograph to the right shows these Bibles in one place. They were so similar to Bibles I had seen in Burundi, where we have supported several Bible distribution projects over the years. Thankfully, we had some money in our Bible account to fund 50 new Bibles for them. Here is a testimony we received:
'When there is a cry of hunger for physical food from some parts of the world, there is a huge response and this is good but there is another more serious hunger, where Christians should respond and that is to provide Bibles to fellow Christians. It was Jesus who said: "man shall not live on bread alone, but on every word that comes from the mouth of God." With my new Bible, I can understand it more clearly and preach more boldly and also show verses to church members when they are seeking advice.'

Malawi: YWAM Bible seminars
These are two-week long courses giving an overview of the Bible to people who have limited Bible knowledge, emphasising the importance of making Jesus Lord of their lives. MPUK are funding eight of these conferences this year up and down the country. A new Bible is given to each delegate. Here is a link to a 3-minute video of a few testimonies from one of the conferences:
The pilot Bible seminar we supported last year was held in a village in southern Malawi. Here is the link to a short 90-second video of this seminar Soon after this seminar, several houses that you can see in this video were destroyed by a cyclone. It was suggested we funded the planting of some fruit trees to protect houses in this and similar places. So, we purchased 300 mango tree seedlings for £500. Now the interesting thing is a mango tree bears fruit for about 25 years and gives about 200 mangos each year. That is about 1,500,000 mangos for just £500! This is a great return on capital employed.

All this so impressed me that we have launched a much bigger fruit tree project with 2,600 trees on Ishwa Island on Lake Kivu in Rwanda – this time the project includes a variety of fruit trees such as avocado and orange. Planting fruit trees provides food and income for the community and addresses the issue of deforestation. This project will benefit families where we have our 'Champion a Child' programme.

Rwanda: Buy one, get one free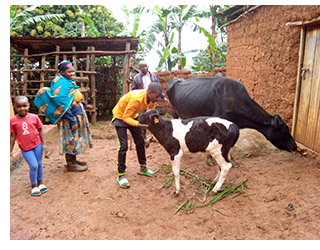 Over the past year, we have been working with the Kigali Diocese. This has included supporting their prison ministry and the work of Mother's Union with women at risk. Another project has been funding cows for seven pastors who are planting churches in the rural areas of this diocese. Pastor Rudasangwa shared 'after I bought my cow, I immediately got blessed with a brand-new calf. My cow gave birth to a beautiful calf. Two cows just like that! We now have milk for my family and our neighbours. Also, the manure will mean an improved yield from our small garden. We are so happy.' Note cow shed in top left of photo.
Rwanda: Education is for all ages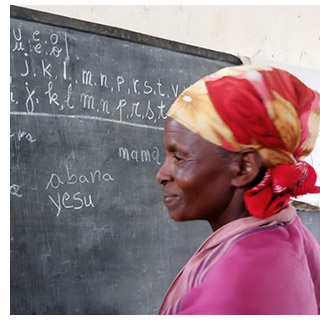 Our first work with the historically marginalised people in Rwanda was our 'Back-to-School' programme. This is a bit of a misnomer as many of the children had never been to school – indeed, some were begging on the streets. So, we funded uniforms and school lunches for the children. Soon we discovered that absenteeism was an issue because education was not valued in these communities. Therefore, we funded parenting courses and began a series of adult literacy courses. Soon the parents understood the value of education. Please do see this 3-minute video:
Rwanda: Love is in the hair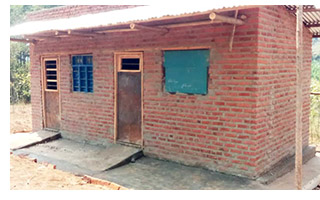 I have also been inspired by our hairdressing project in Bulgaria. This programme not only brings income to the Roma, but is part of their evangelism strategy offering free haircuts in exchange for listening to the gospel. Now we are building a hairdressing salon beside the nursery school we built two years ago in Cyangugu Diocese with the same vision of income and evangelism. Pictured right.
Rwanda: Star School is shining bright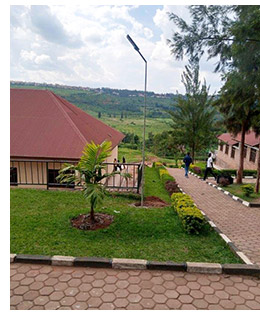 We are often asked to upgrade. Indeed, today I was asked to upgrade to Windows 11! Twelve years ago, we funded bringing electricity to the hillside about 10 miles out of Kigali that includes the Star School. It involved purchasing a number of poles and loads of wire. But the UK is not the only place that is suffering from an energy crisis, so earlier this year we funded solar lighting at the school. See one of the lamp posts in centre of picture right.
At the start of the academic year, we provided the school with a range of new textbooks. The headmaster reports that the books have increased the school academic performance rate. Here is a short 30-second video of a student studying economics:
Rwanda: a critical component towards gender equality
Our feminine hygiene programme has benefited many schoolgirls over the past year. We are told that with better protection, far fewer days are being taken off school. Now the programme has been extended to 500 women on Ishwa and Nkombo Islands on Lake Kivu. Some of the beneficiaries are parents of children on our 'Champion a Child' programme. One recipient commented: 'These kits are cost effective, as they can be used for several years and are easy to clean. They dry fast after washing in the local sunlight.' Another shared: They are soft and comfortable. They are a good size and do not irritate the skin.' This is what I call a 'no brainer' programme and we hope to roll it out into more places.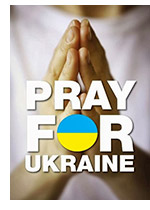 I know many are praying for Ukraine and much prayer is needed. Please also pray for our other work. This would be greatly valued.
Richard